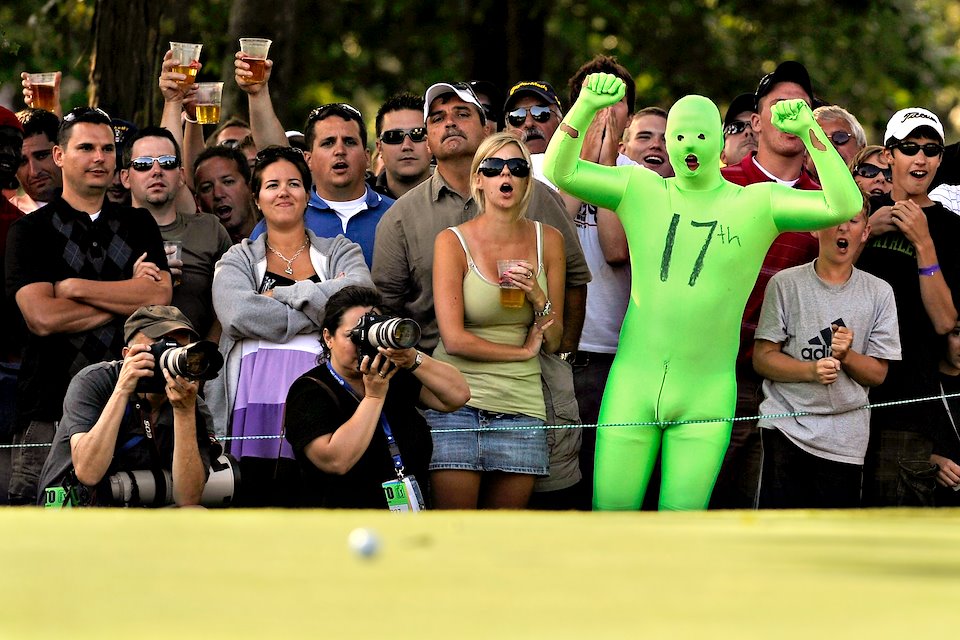 A green man, representing the wild spirit of the 17th hole, cheers as Tiger Woods' ball rolls across the green Sunday August 2, 2009 at the Buick Open in Grand Blanc, Mich. It was last year for the PGA event as Buick dropped its sponsorship due to economic hardships in the Motor State.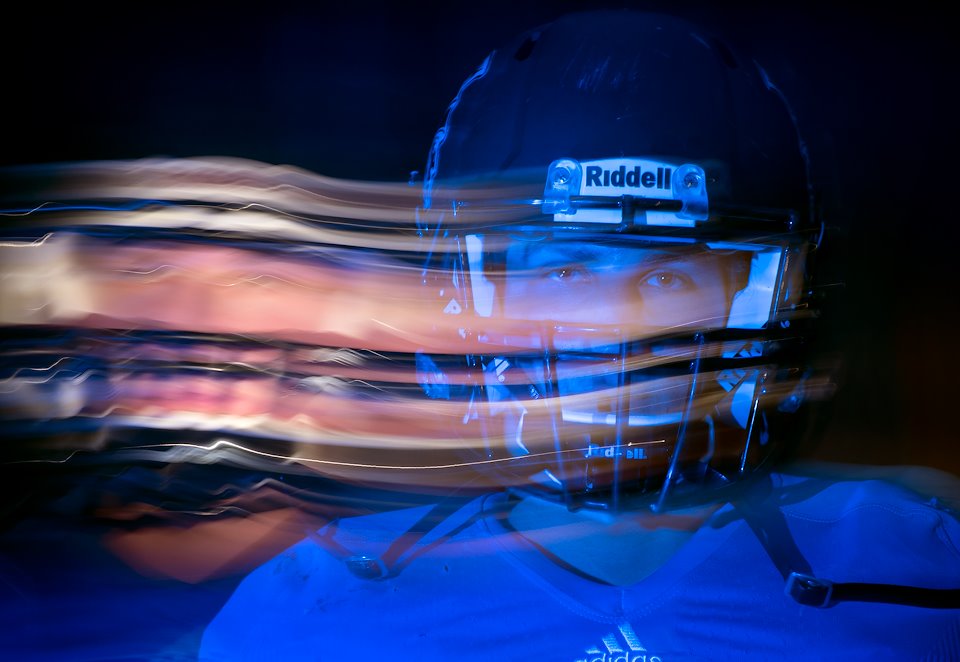 In-camera long exposure portrait for Pigskin Preview magazine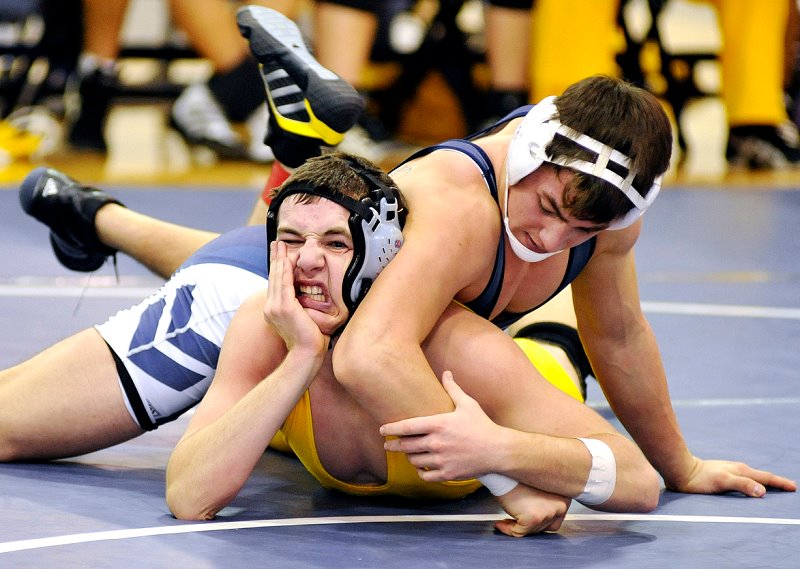 John Glenn High School senior Ryan LaFlure works on pinning Bay City Western senior Brian Kernstock at the Bay County Championship wrestling tournament held Saturday at John Glenn High School in Bay City, Michigan. LaFlure proved successful against Kernstock.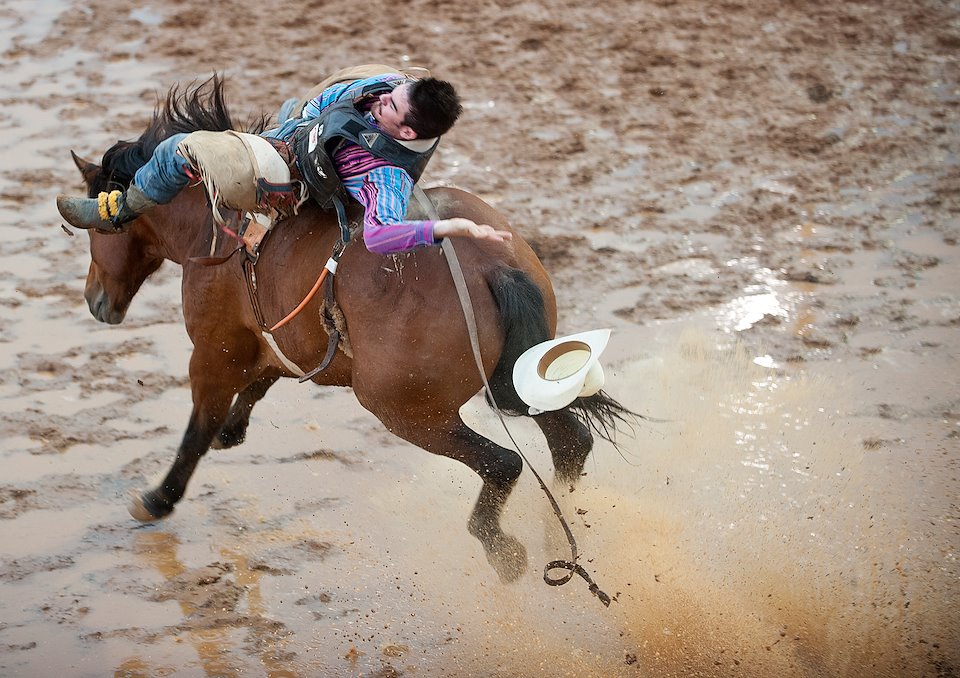 Hunter Carter of Babson Park, Florida competes in bareback riding during the Tops in Texas Rodeo Friday night. The Tops in Texas Rodeo continues with their final performance Saturday night at 7 p.m. in Jacksonville, Texas.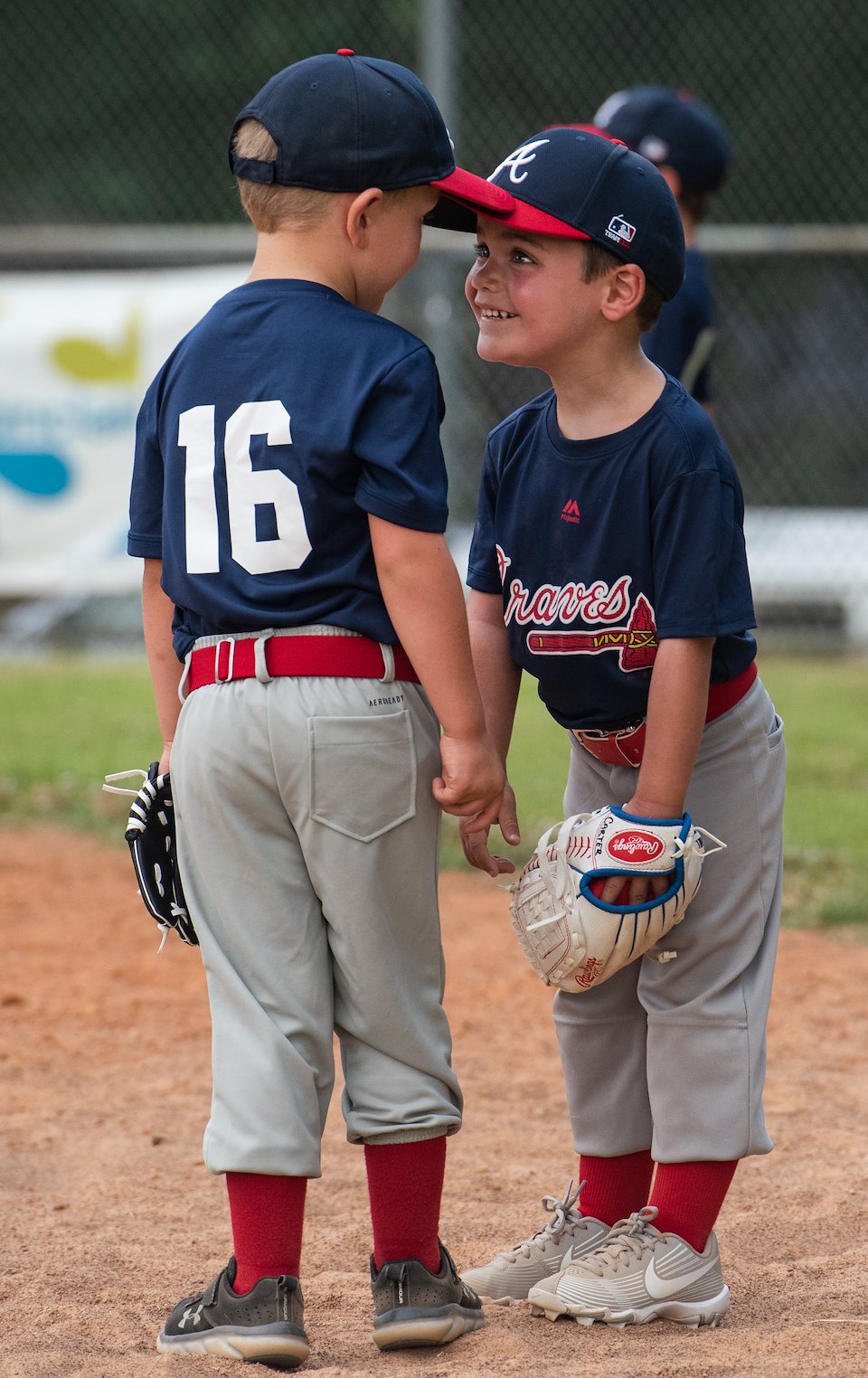 Braves players Ethan Roberts, 5, and Carter Derr, 4, focus on playing their own game instead of their t-ball baseball game against the Athletics on Monday, June 15, 2020 at Golden Road Park in Tyler, Texas. The Rose Capital East Little League teams held their first games today due to a delay in the season from COVID-19.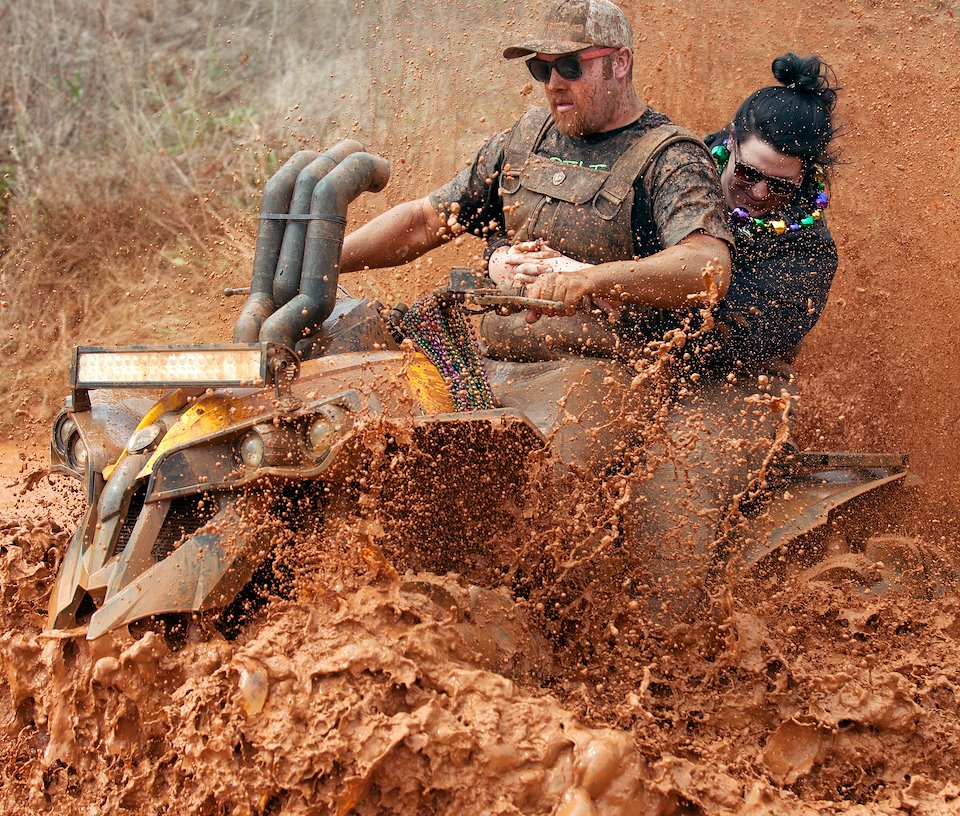 Sam Velis of Honeygrove, Texas and Whitney Whited of Bonham, Texas ride through a mud pit for fun at the High Lifter ATV Mud Nationals Thursday March 26, 2015 at Mud Creek Off-Road Park in Jacksonville, Texas. High Lifter ATV Mud Nationals is an annual event that draws thousands of people of all ages from across the country to camp, ride all terrain vehicles and participate in and watch various ATV competitions. Mud Nationals continues Friday, Saturday and Sunday.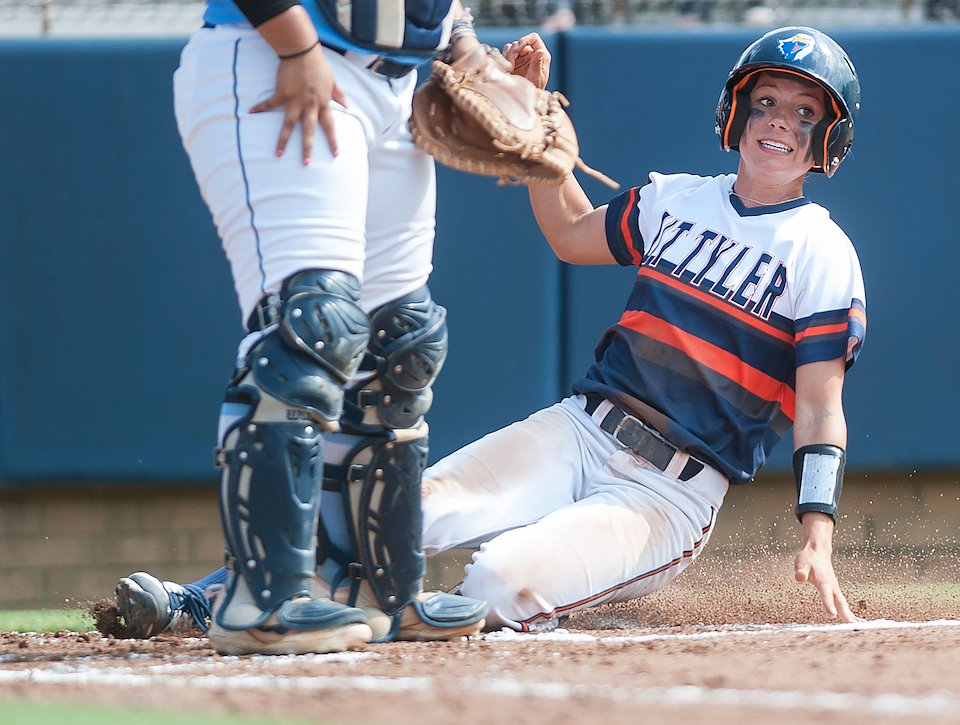 UT-Tyler softball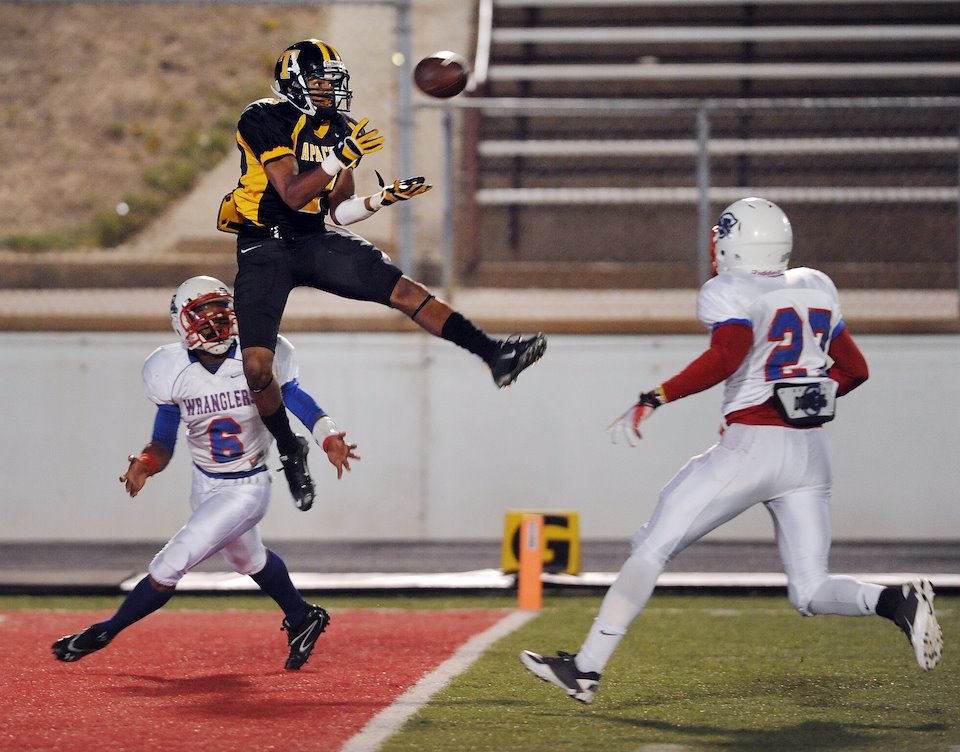 Tyler Junior College's freshman Jalen Claiborn makes a touchdown Saturday night at Trinity Mother Frances Rose Stadium in Tyler. Pictured at left is Cisco College's freshman Kerry Lewis and senior Terrance Franklin, at right.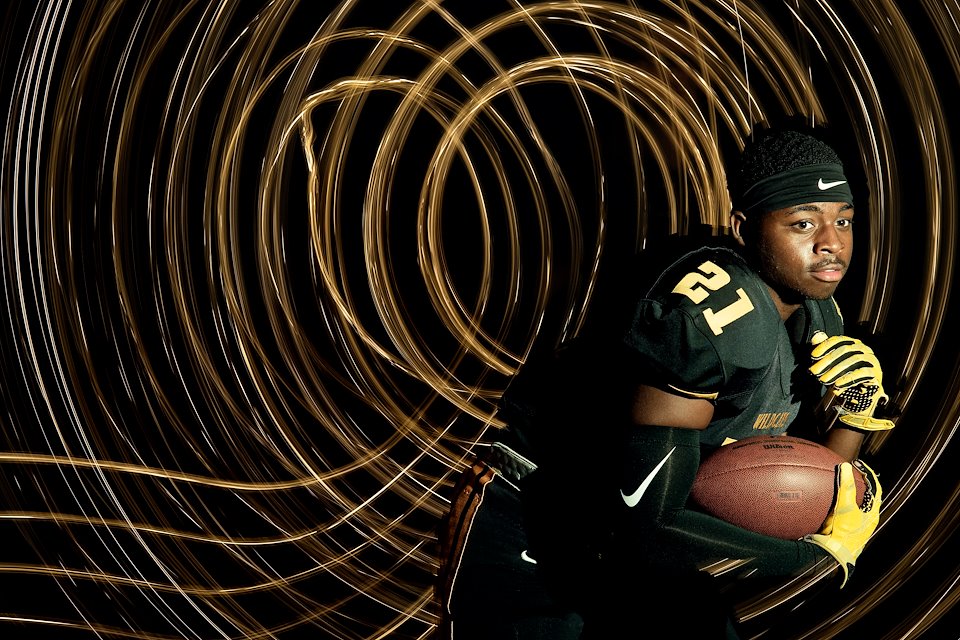 Pigskin Preview magazine in-camera long exposure portrait.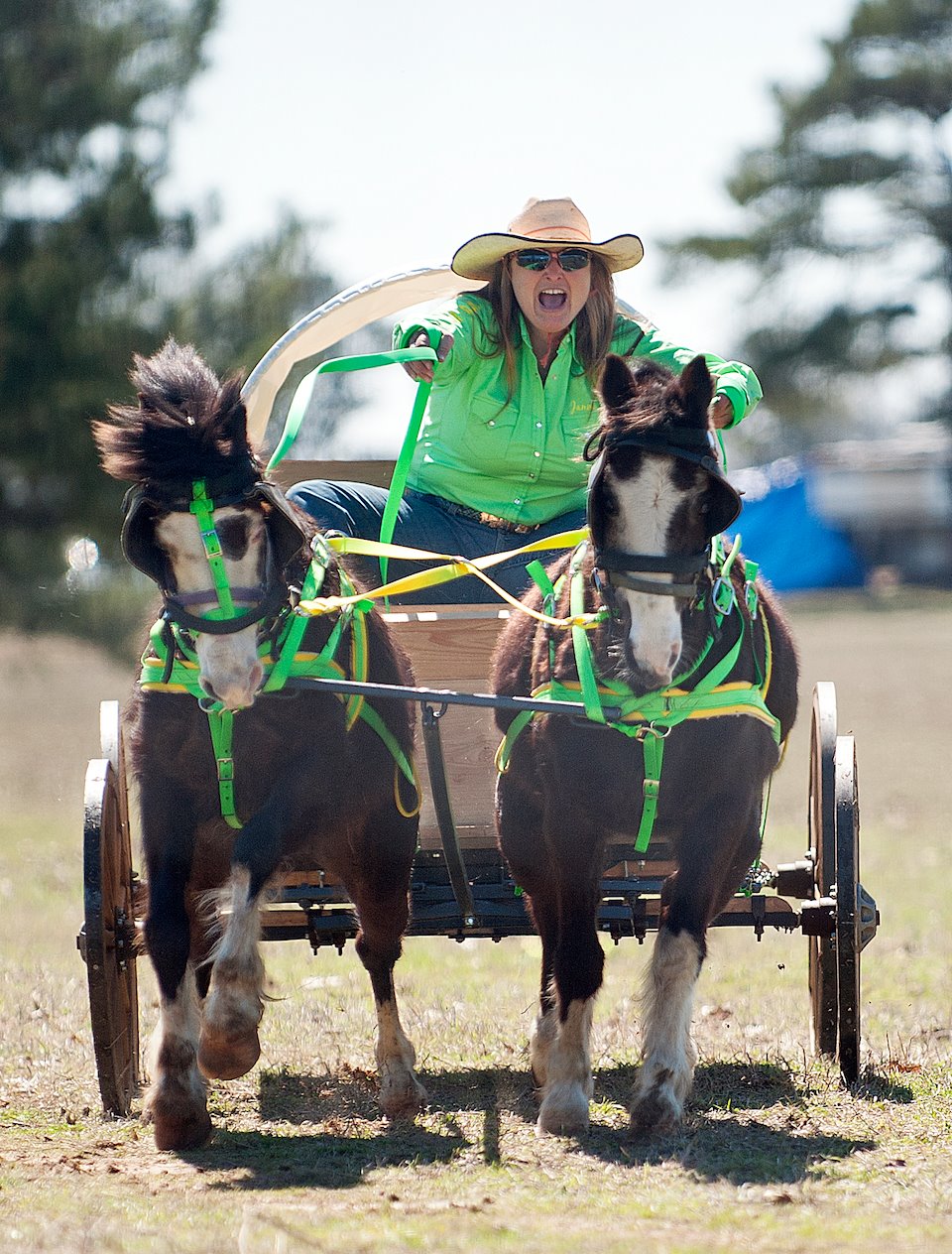 Team Girls Gone Nuts from Malvern, Arkansas competes in the Oklahoma Land Rush division, a 600 foot straight dash, Friday during the 1836 Chuckwagon Races at Diamond B Ranch in Neches, Texas. The 1836 Chuckwagon Race is an annual event that takes place the first weekend in March every year to celebrate Texas Independence Day. There are five classes of wagon races as well as Bronc Fann'n, a cowboy style match race, pasture team roping, cowboy mounted shooting and other western culture demonstrations.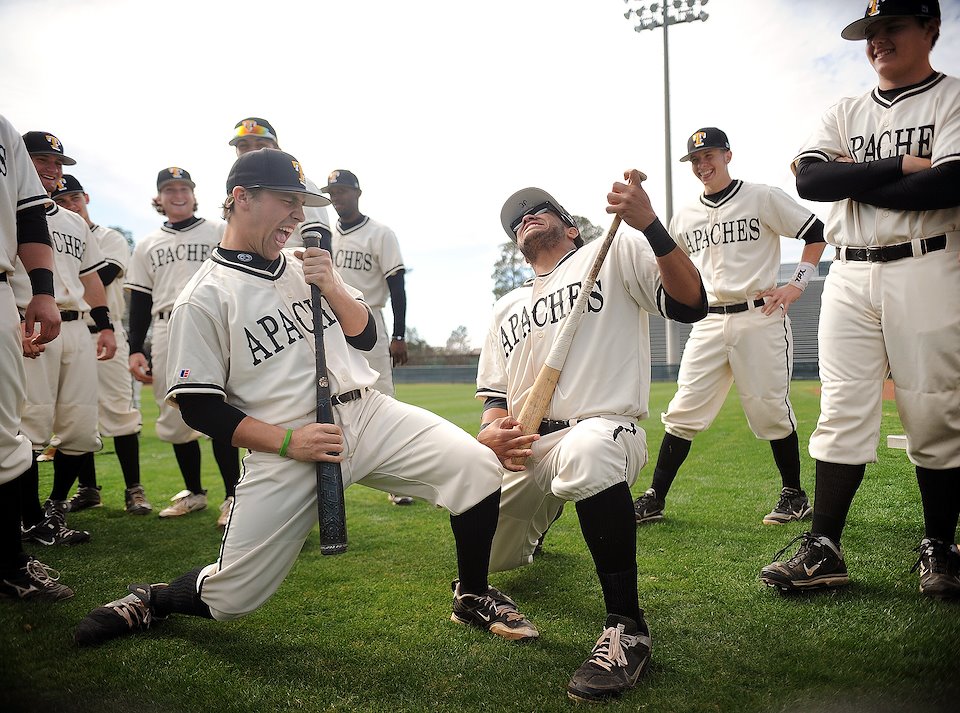 Tyler Junior College baseball players Hunter Rekieta, left, and Jeremy Christian, right, entertain their teammates by singing and using their baseball bats as pretend instruments. The players were waiting to have their photos taken by various photographers during their media day Monday at Mike Carter Field in Tyler, Texas.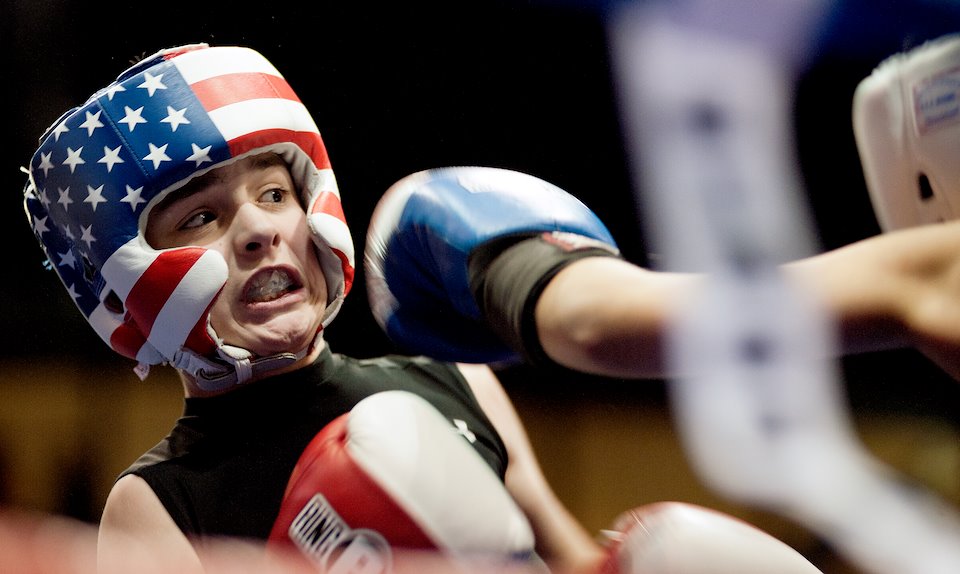 Blane Wallace, 9, of D-Rocks Gym is hit by Jonathan Vazquez, 9, of East Texas Boxing Gym during their 75 pound bantam novice fight Thursday night at the East Texas Golden Gloves. Wallace won his match against Vazquez. The competition continues through Saturday night at the UT-Tyler Patriot Center.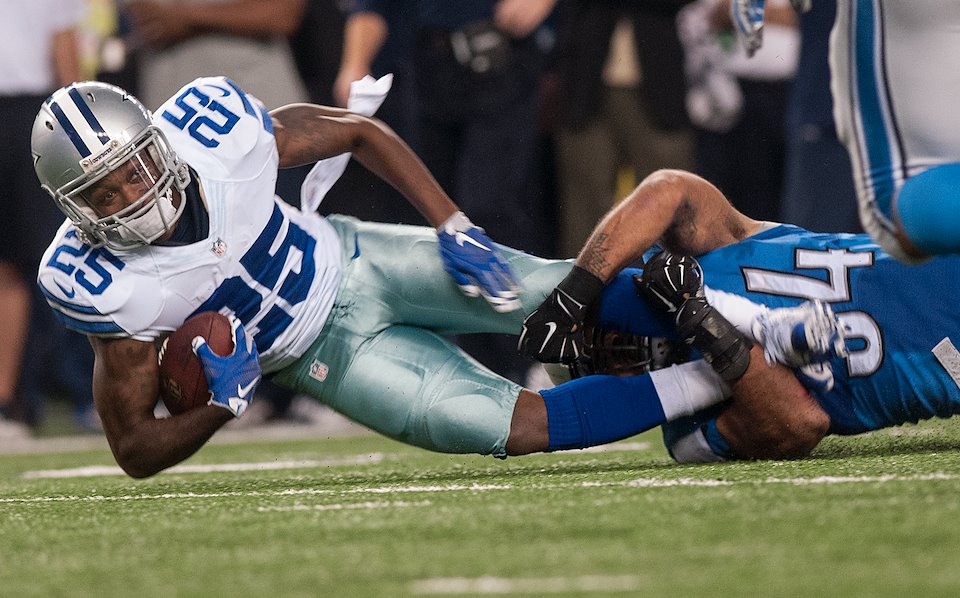 Dallas Cowboys' running back Lance Dunbar (25) is brought down by Detroit Lions' linebacker DeAndre Levy (54) Sunday Jan. 4, 2015 during their game at AT&T Stadium in Arlington, Texas. The Cowboys beat the Detroit Lions, 24-20.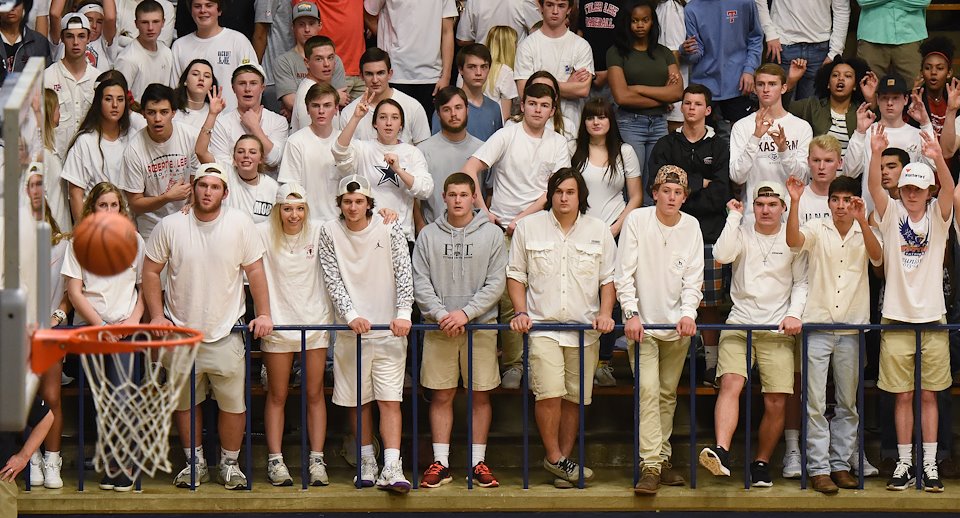 Robert E. Lee High School basketball fans watch the ball near the basket on a free throw during the Raiders' game at the Lions Den Friday night Jan. 13, 2017.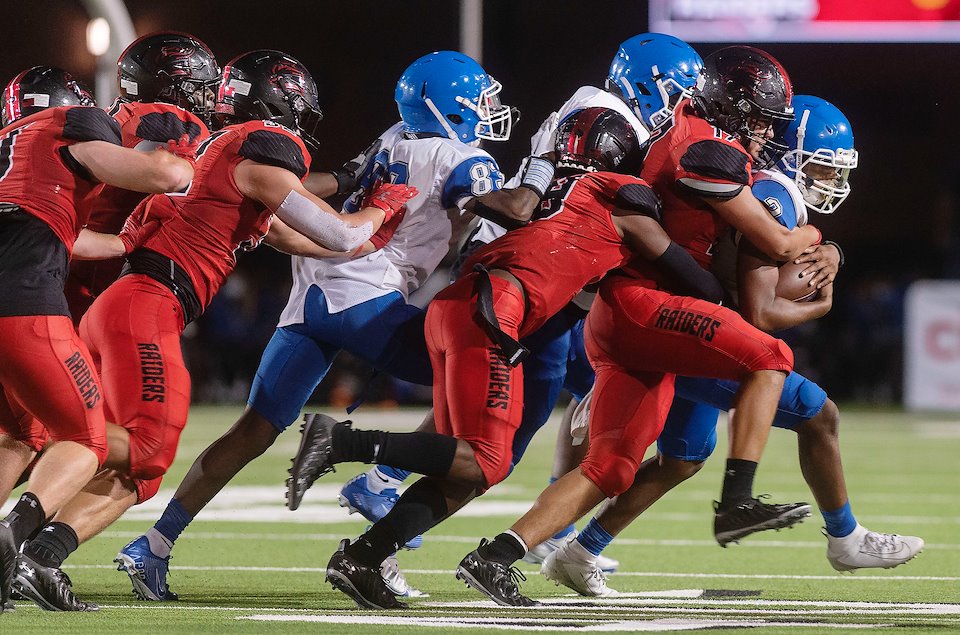 Tyler High School's Ken'Yontae Pinkard (2) is stopped by Legacy's Josh Olivares (17) and a host of others during their rivalry game at Trinity Mother Frances Rose Stadium on Friday, Oct. 2, 2020.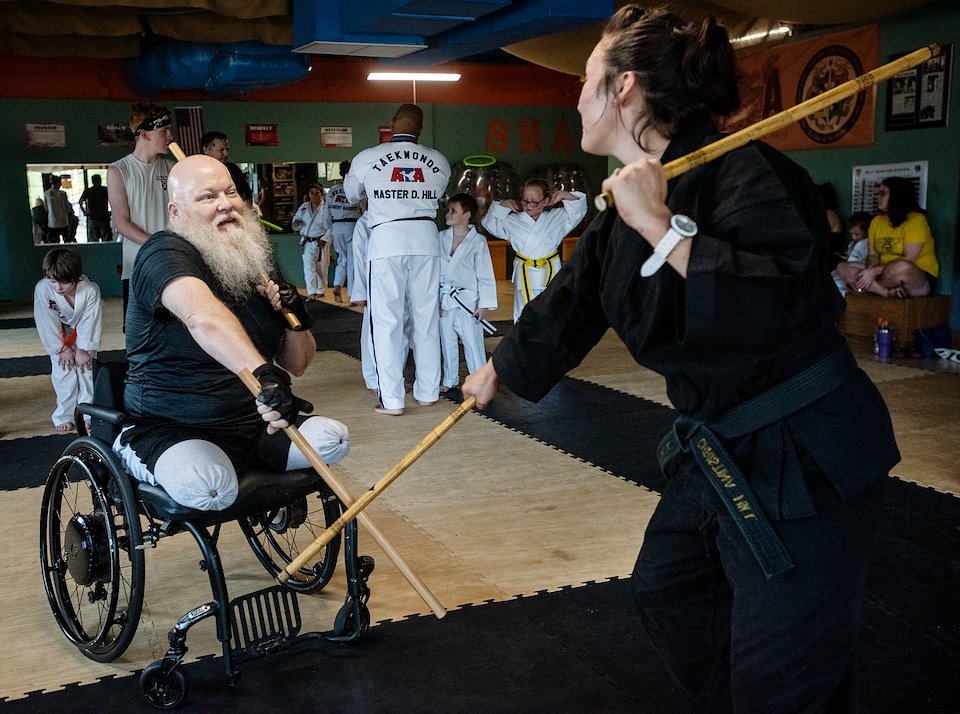 Instructor Christina Hill does stick work with Tyler resident Kenneth Ward, 56, at Songahm Martial Arts Academy in Tyler on July 1, 2020. Ward, who has Type 1 Diabetes and is recovering from his second amputation, began training at the dojo after watching his granddaughters Ava, 7, and Charlie, 4, enjoy taking Taekwondo classes. Songahm Martial Arts Academy's classes are inclusive to children and adults of all abilities, and they also offer private lessons.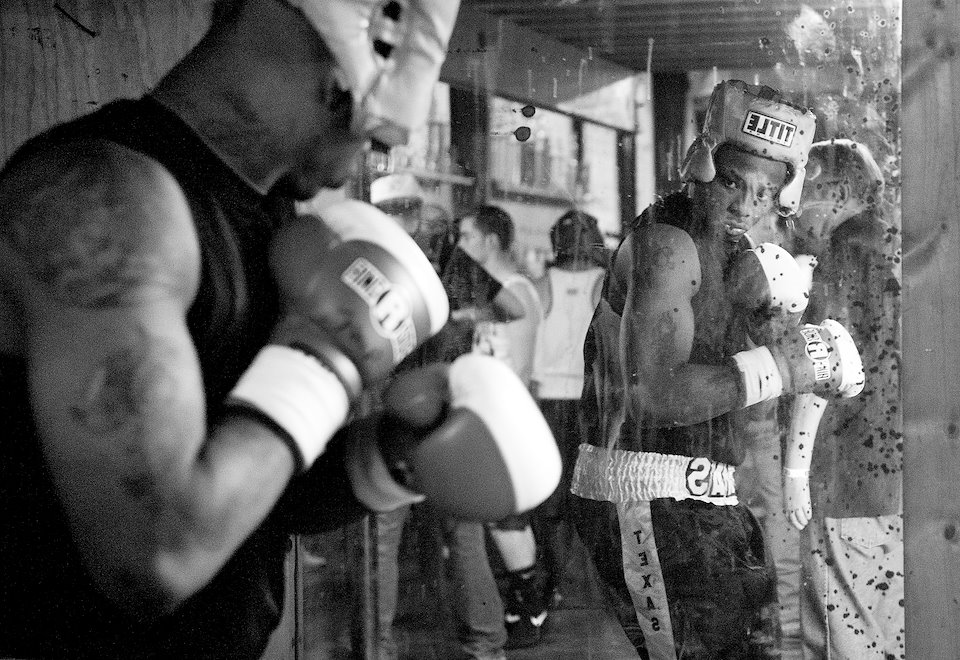 Shamrian "Dancing Duke" Snider , 25, of Tyler, Texas watches himself in a mirror before his fight at the Lucky Vascocu Boxing Tournament Saturday night, April 7, 2012, held at Byran Payton Gymnasium in Troup. Snider is one of the top amateur boxers in the state and is hoping to go pro.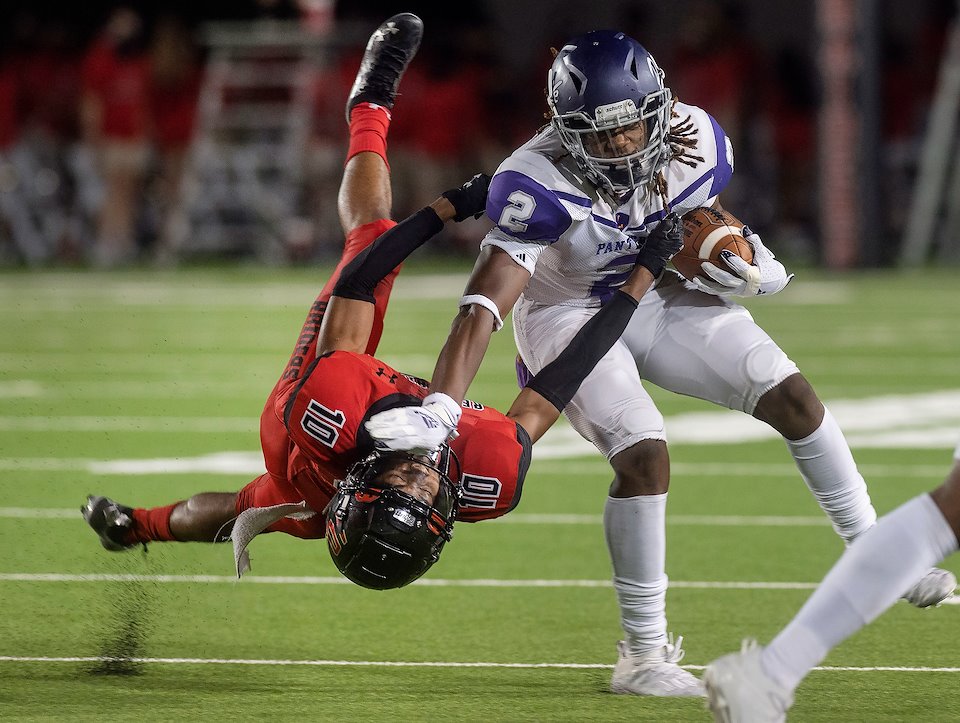 Lufkin High School's running back Caleb Berry (2) gives Tyler Legacy High School's Ja'kambrin Turner (10) the stiff arm during their football game at Christus Trinity Mother Frances Rose Stadium on Friday, Sept. 25, 2020.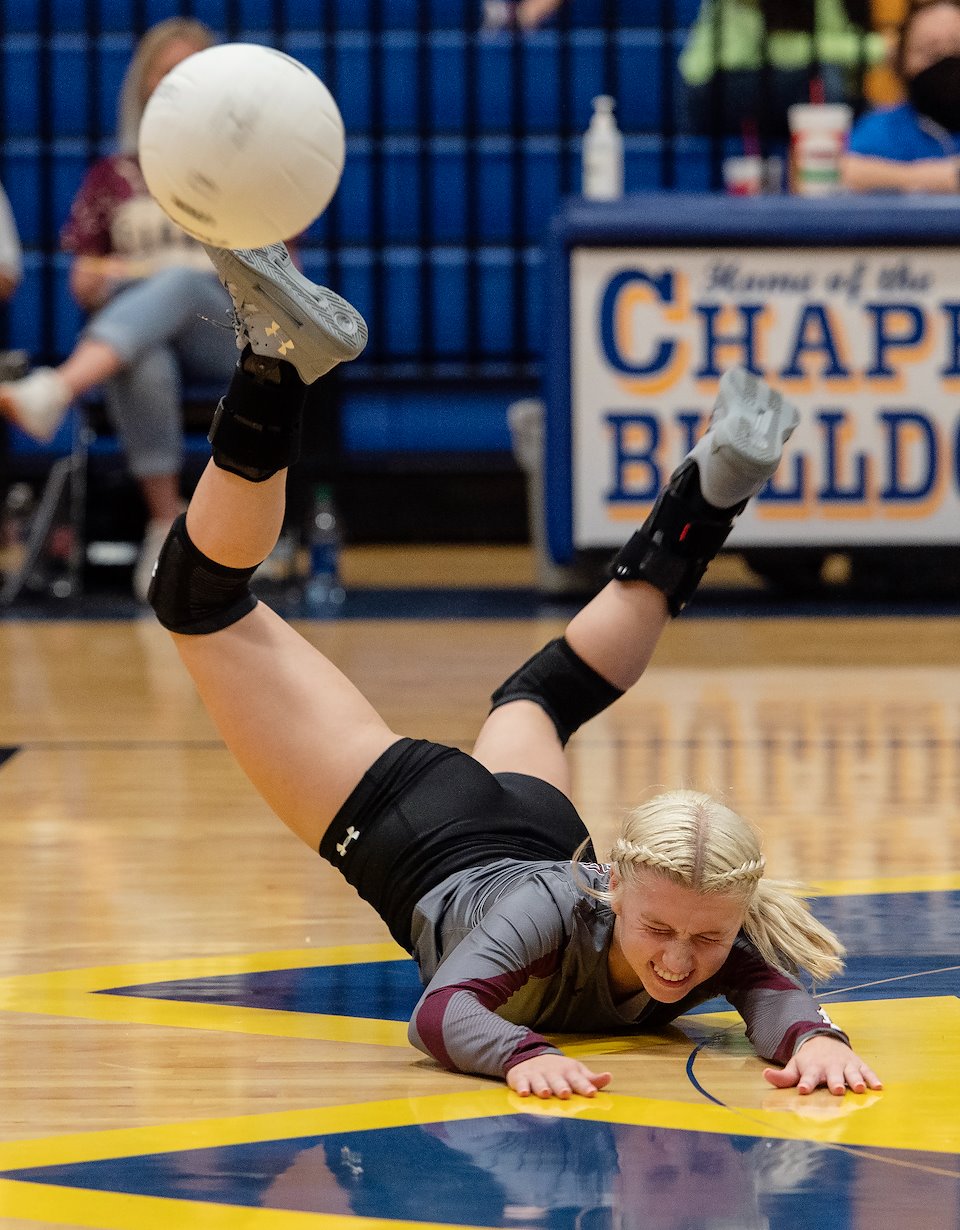 Arp High School's Natalie Wiggins dives to the floor during their volleyball game at Chapel Hill High School in Tyler on Tuesday, Aug. 11, 2020. The school enforced a reduced 50 percent capacity in the gymnasium as well as blocking off every other row in the bleachers for seating and requiring face masks.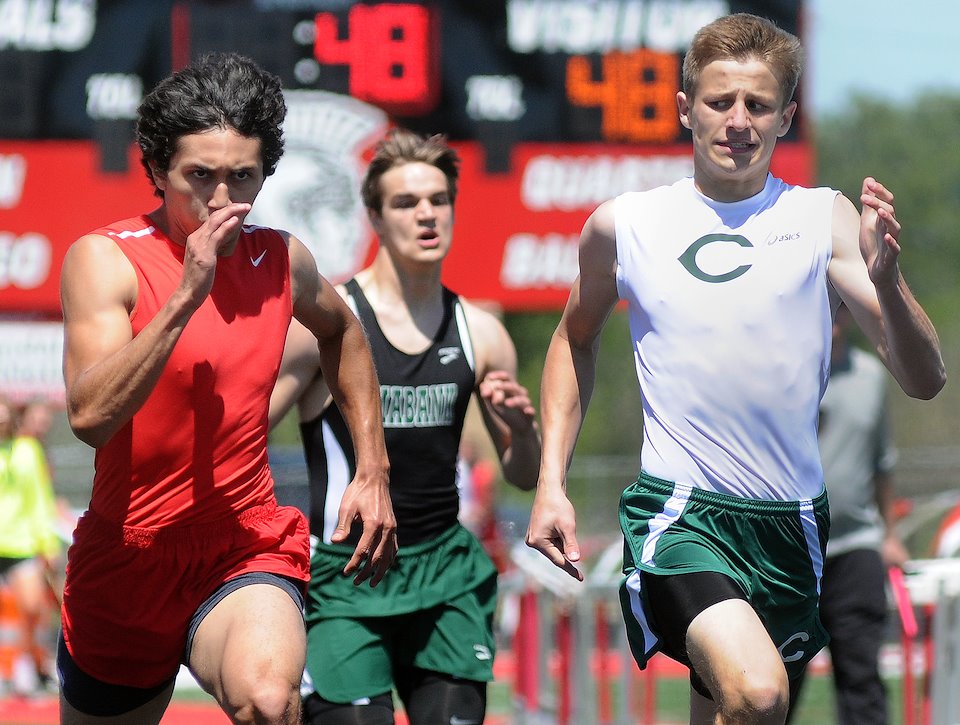 In the final seconds of the 400 meter dash, Van's senior Tony Sanchez, left, edges out Canton's sophomore Jacob Vogt, right, for first place on April 12, 2013. Sanchez finished the race in 50 seconds even.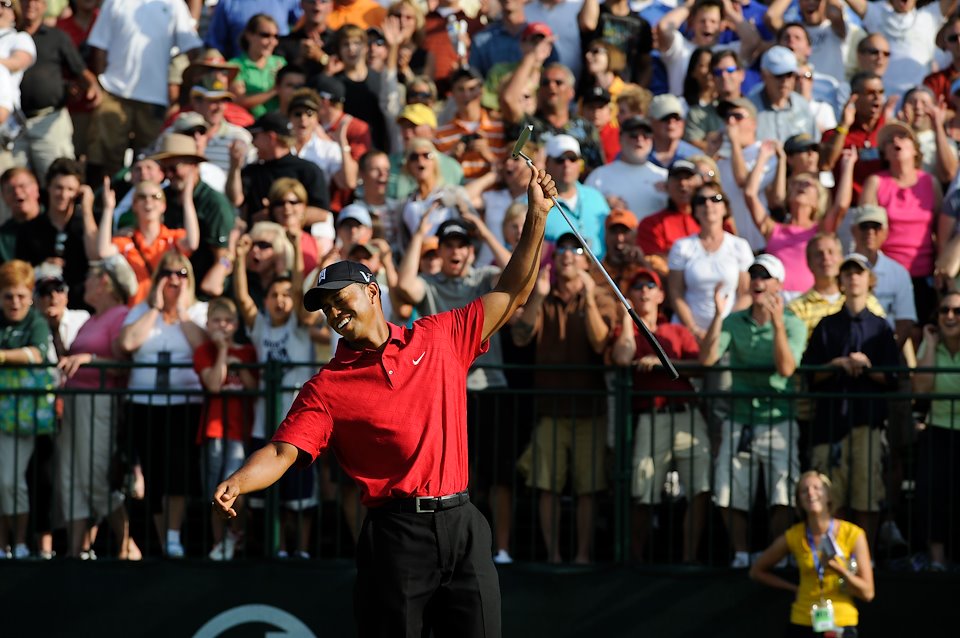 Tiger Woods reacts after missing the birdie on the eighteenth hole at the Buick Open Sunday, Aug. 2, 2009 in Grand Blanc, Mich. Woods went on to win the tournament, making this is 69th PGA title. Woods was three-under, scoring a 69. The Buick Open was held at Warwick Hills Golf and County Club in what is likely to be its last year.
Shamira Jolivette, 17, of Tyler does a trick on her skateboard at Noble E. Young Skate Park in Tyler late Sunday afternoon. Jolivette has been teacher herself to skateboard tricks for six months. "I'm the only girl that comes out here to skate," she said.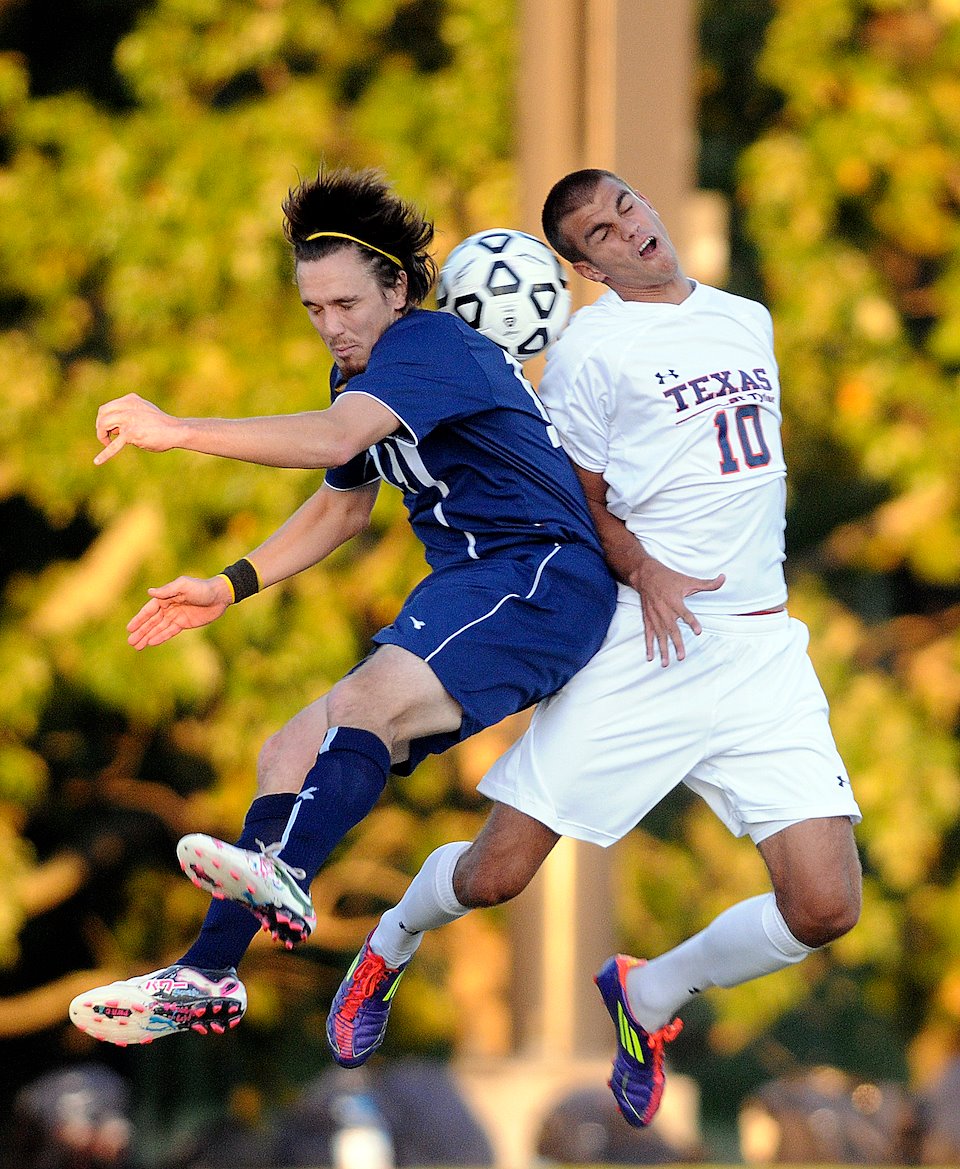 LSU-Shreveport's sophomore Joey Morvant and UT-Tyler's senior Jake Urbaniak collide as they both jump for the ball at their soccer match Thursday night, Sept. 8, 2011, at Citizens 1st Bank-Perkins Soccer Complex in Tyler.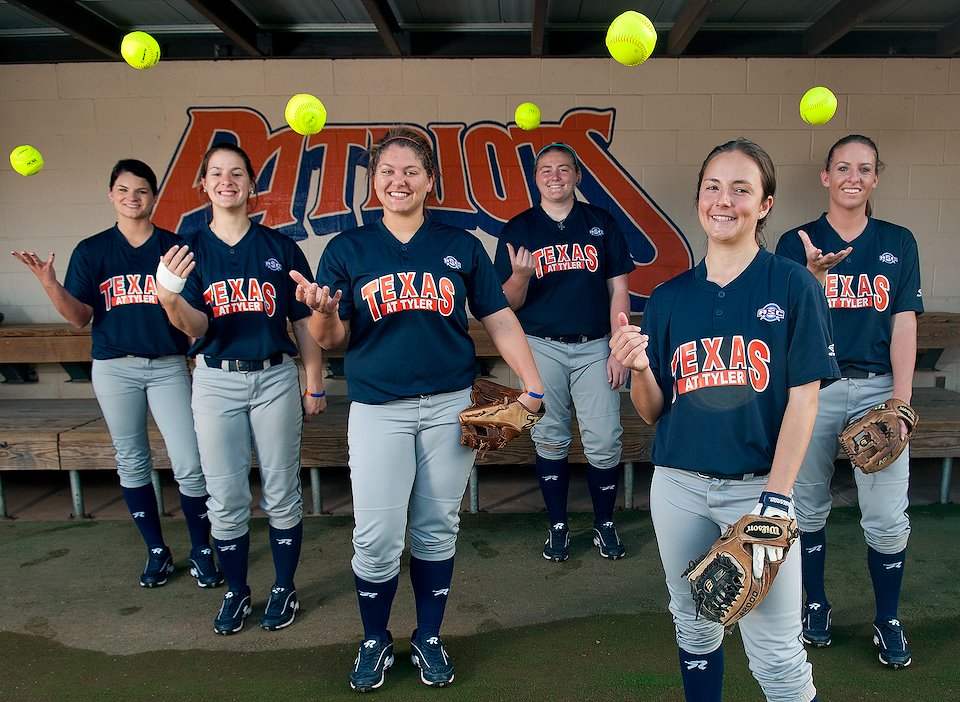 University of Texas at Tyler softball players pitchers (from left) Jessica Ross, Carli Wheeler, Heather Abshire, Victoria Combs, Amanda Lopez (front), and Katelyn Thomason