Barbara Chandler, 76, relaxes with her 47-year-old special needs daughter Lisa during a visit at their home in Tyler Thursday March 16, 2017. Lisa is a resident at Lufkin State Supported Living Center which houses about 300 special needs people. Barbara and Max Chandler are concerned the Texas state legislature will cut funding to the center in Lufkin where Lisa has lived since age four. "Lisa may outlive me. We need this school to make sure she's taken care of," Mrs. Chandler said. The Chandlers are against Texas Senate Bill 602 which could close the living center.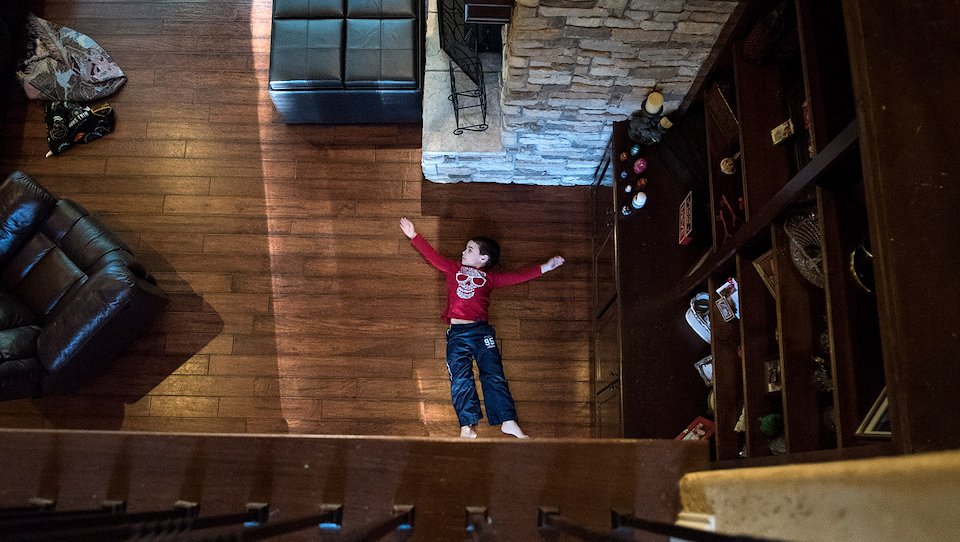 Jack Jeter, 6, ignores the calls of his parents as he plays on the floor of his home in Bullard, Texas April 5, 2017. Meggan Jeter and her husband, Travis Jeter, work jointly to care for their son who lives with autism. Jack is on the high functioning end of the spectrum but is susceptible to running off into his own world.
Ben Gerlach of Syracuse, Utah heads home from work at Temple Square during a rain-turned snowstorm late Monday afternoon in Salt Lake City March 7, 2011. "It's a little late in the year for this," he said.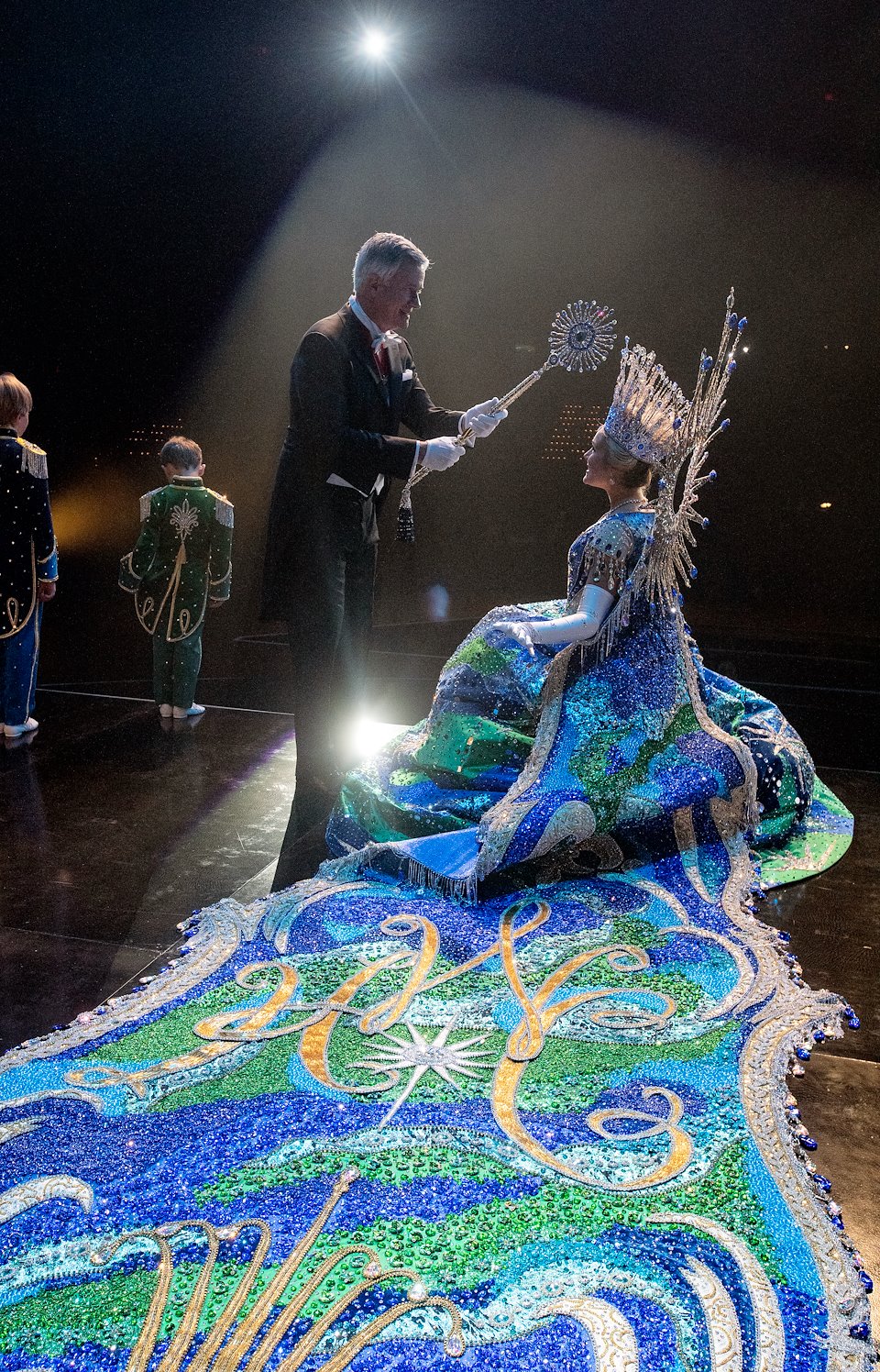 Texas Rose Festival President Britton Brookshire crowns Queen Hanna Claire Waits during rehearsal for the Queen's Coronation at the Cowan Center in Tyler on Thursday Oct. 17, 2019. The festival celebrates the rose growing history of Tyler. Elaborate gowns worn by the Queen and her court were designed by Winn Morton under the theme "Portraits of Inspiration."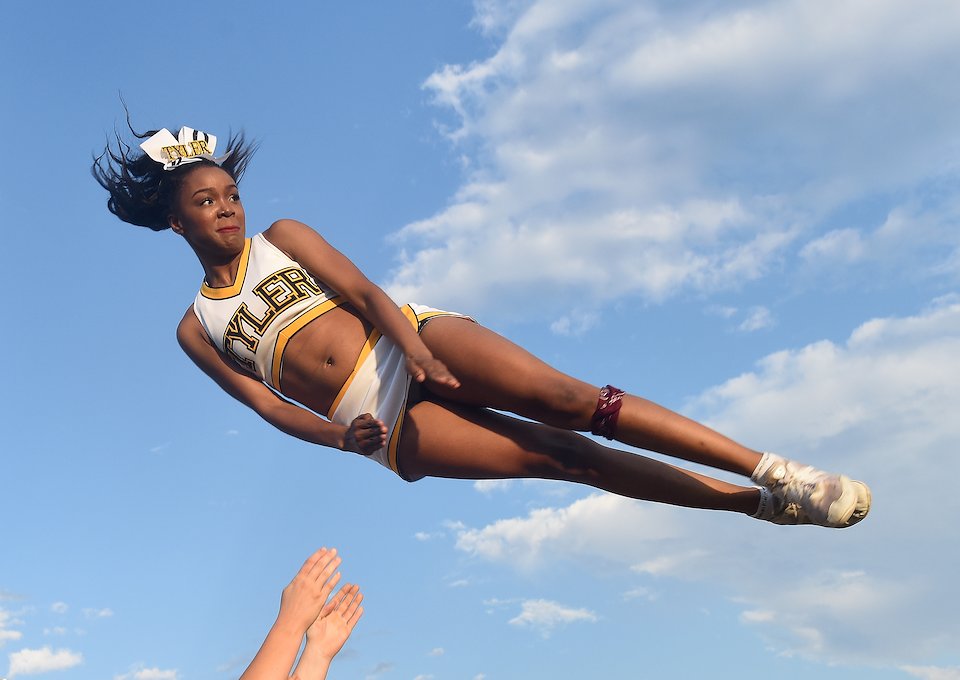 The Tyler Junior College cheerleader CeCe Mathews practices a stunt at Christus Trinity Mother Frances Rose Stadium before the start of the homecoming football game Saturday Sept. 17, 2016.
Tyler Day Nursery teacher Jacqueline Dade-Mack holds her son, preschooler Antonio Mack, 3, as he gets a flu vaccination shot Friday Oct. 3, 2014 at the nursery in Tyler, Texas. The Texas Medical Association's Be Wise-Immunize Clinic was provided by the Smith County Medical Society Alliance with funding support from the Texas Medical Association Foundation. In addition to the free vaccines, Dr. Paul Pitts sponsored a free bicycle helmet giveaway.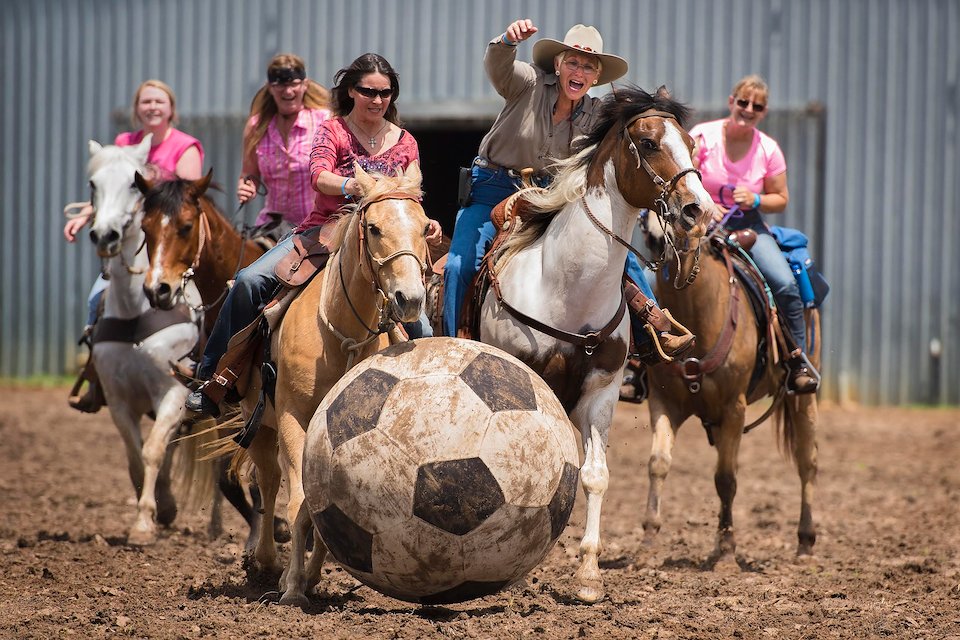 Kathy Hawkins of Diana, Texas, left, and Brenda Jones of Maydelle, Texas, right, race their horses toward a large rubber soccer ball as they host a mounted soccer clinic Tuesday April 19, 2016 during the 1836 Chuckwagon Race at Diamond B Ranch in Neches, Texas. The western culture event continues through Sunday.
Smith County Sheriff's Office Deputy Corey Cameron is comforted by fellow officers after reading a poem about K-9 officers during the memorial service for Smith County Precinct 5 K-9 officer Ogar Saturday Jan. 23, 2016 held at First Baptist Church in Lindale, Texas. K-9 officer Ogar was slain while chasing a suspect after a traffic stop Tuesday Jan. 19. Ogar had been with Constable Kevin Petty for a little more than a year.
Flint, Michigan residents Halie Dustin, 9, in red, John Hoffman, Collin Hoffman, 6, and Kimberly Dustin look back as a home on the corner Hamilton Ave. and Iowa St. in Flint burns to the ground early Thursday evening. Vacant house fires have been plaguing the east side of the city since 23 firefighters and 23 police officers were laid off on March 25, 2010 in an effort to save the city money.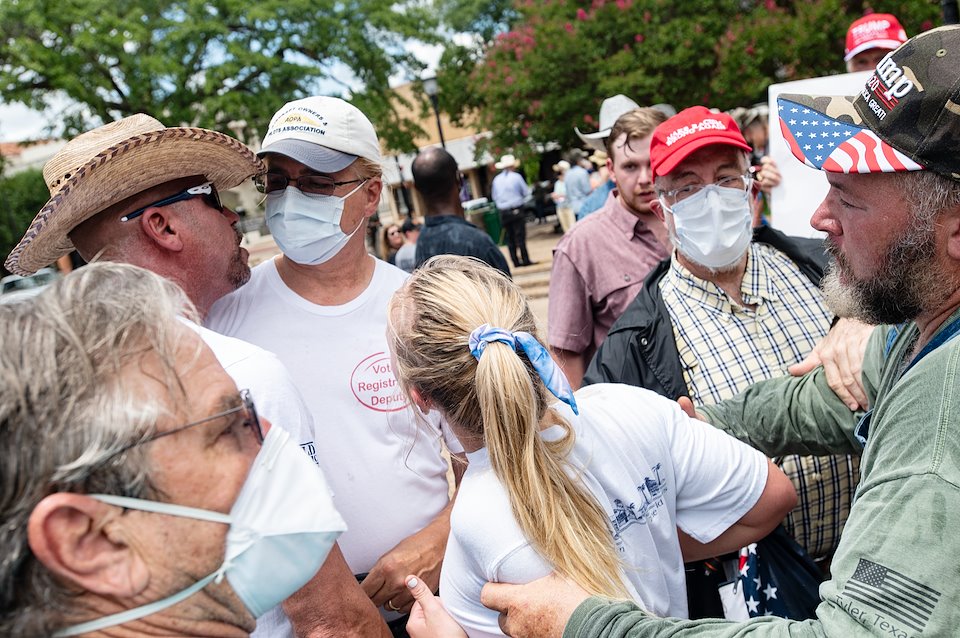 Counter protestors get in the faces of people working at the rally for Hank Gilbert on the downtown square in Tyler, Texas on Sunday, July 26, 2020. Gilbert, who is the Democrat running for election to the U.S. House to represent Texas' 1st Congressional District, held a rally dubbed Protest for Portland which was met by a counter protest for Blue Lives Matter along with individuals and groups representing Take America Back and armed militias.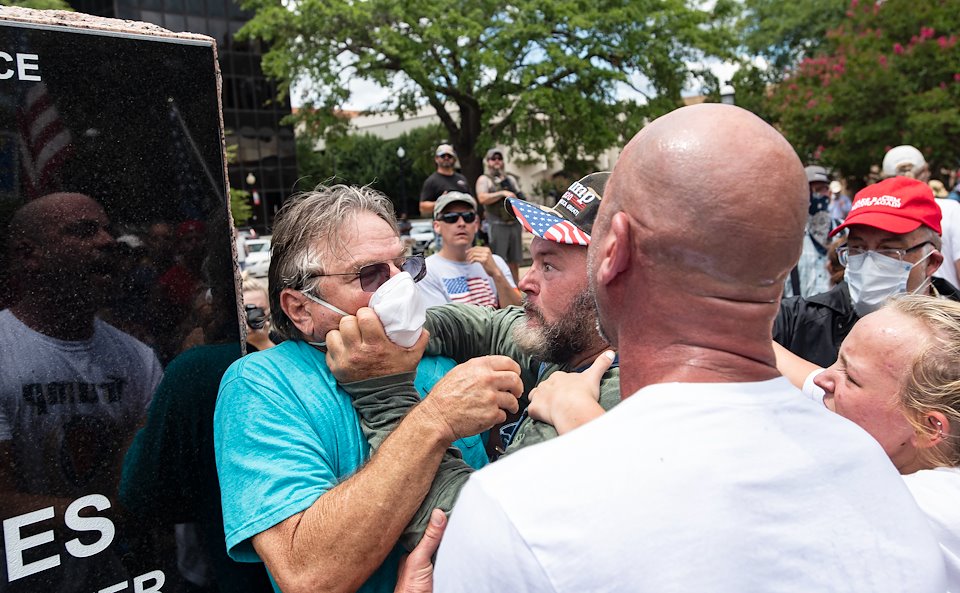 Paul Benson, left, of Tyler, is attacked Eric Artmire, one of many people who came to support a Back the Blue event happening at the same time and location as Hank Gilbert's Protest for Portland rally, which Benson was attending, on the downtown square in Tyler on Sunday, July 26, 2020. Caroline Artmire, pictured at right, said her father was protecting her after she was called a name. Benson says he was trying to keep counter protesters back from the audio equipment and the speakers when he was attacked. "I didn't expect this," Benson said. "I didn't know what to expect, but I didn't expect this." Gilbert is the Democrat running for election to the U.S. House to represent Texas' 1st Congressional District against incumbent Louie Gohmert.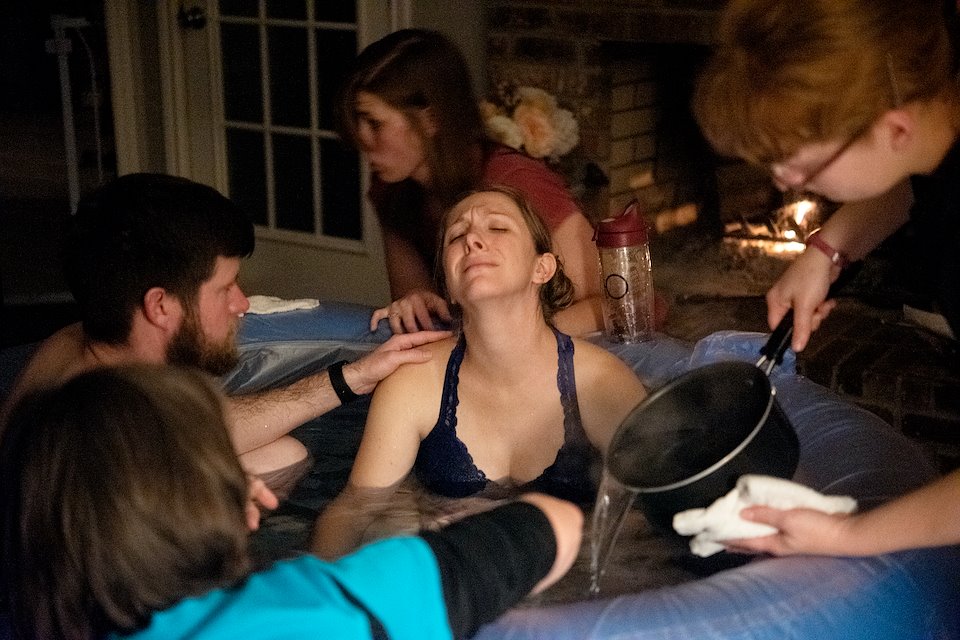 Midwife apprentice Bri Gunter (far right) pours a pan of hot water into the birth pool as Laura McHugh is in labor at her home in Flint, Texas on April 2, 2019. The temperature of the birth pool is kept between 98-100 degrees to stay at body temperature to mimic the womb. From left: midwife Diane Dreier, husband Micah McHugh and doula Gwen Spadie.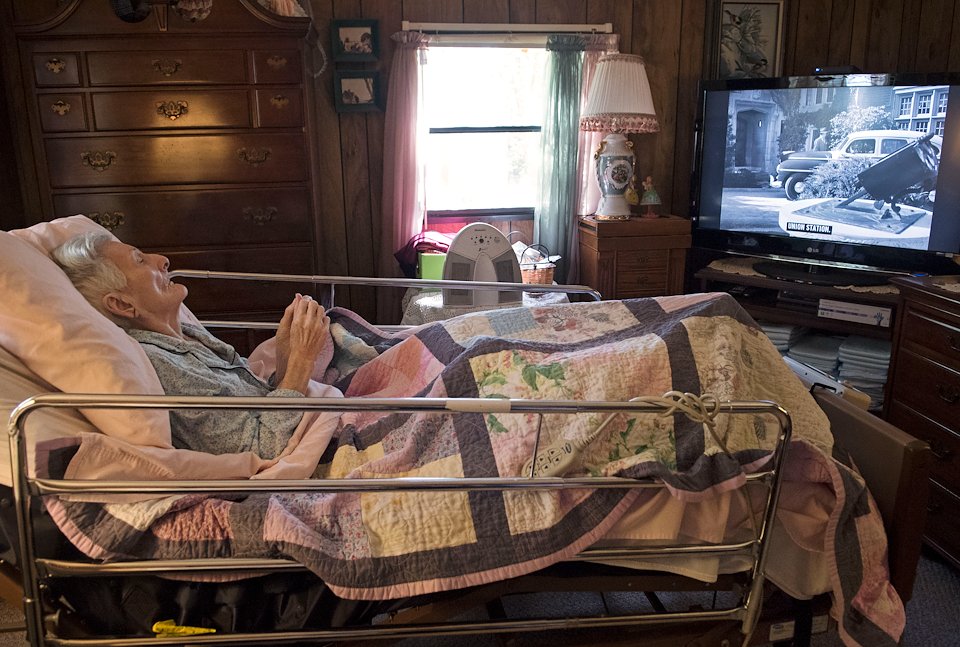 Dementia patient Beryl Davis watches a black and white television show with the captions on Thursday March 23, 2017. Davis lives at her daughter's home in Chandler.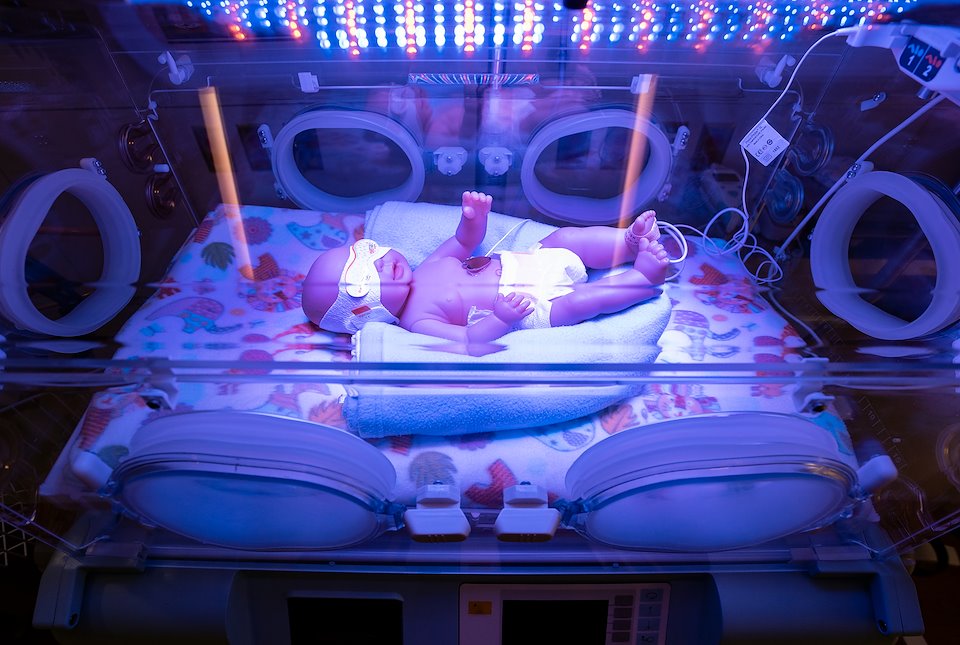 Neo Blue Phototherapy Light on a baby doll is on display during a tour of the newly expanded Lucy and John Carr Neonatal Intensive Care Unit (NICU) at Christus Mother Frances Hospital - Tyler on Wednesday May 8, 2019 in Tyler, Texas. The new NICU includes new technology and features including private patient rooms with advanced light and sound control systems, new overnight accommodations for parents, as well as double-capacity private rooms to allow twins to stay together. Parents will also have access to a new live-feed video monitoring system to check on their child from their smart phone. The NICU at Christus Mother Frances Hospital - Tyler is the only Level III facility in Smith County.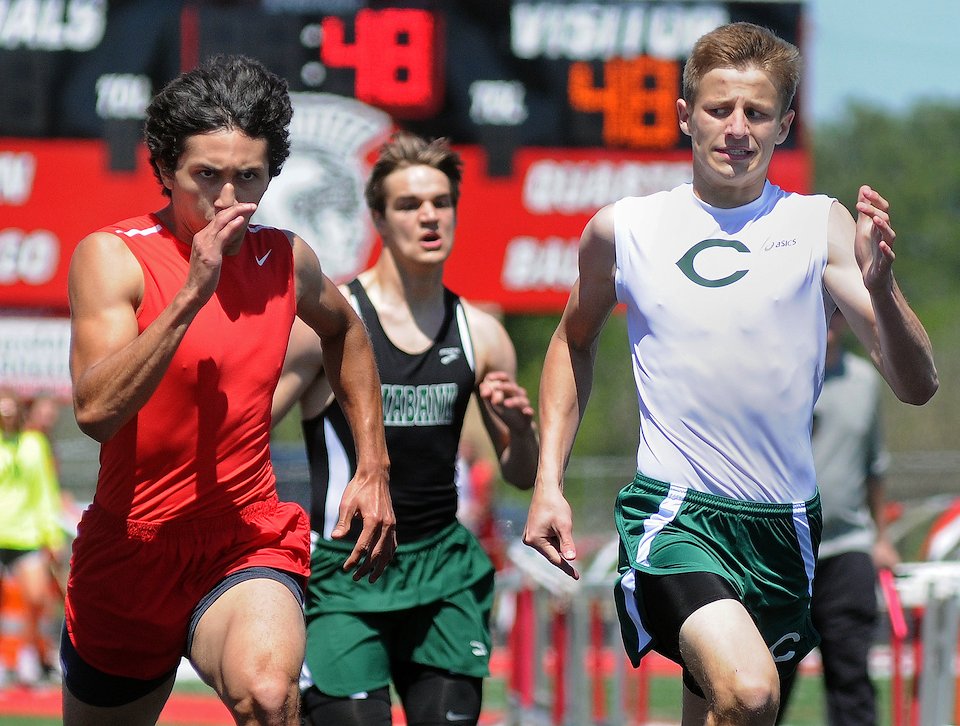 Tony Sanchez, left, edges out Canton High School sophomore Jacob Vogt, right, for first place. Sanchez finished the race in 50 seconds even.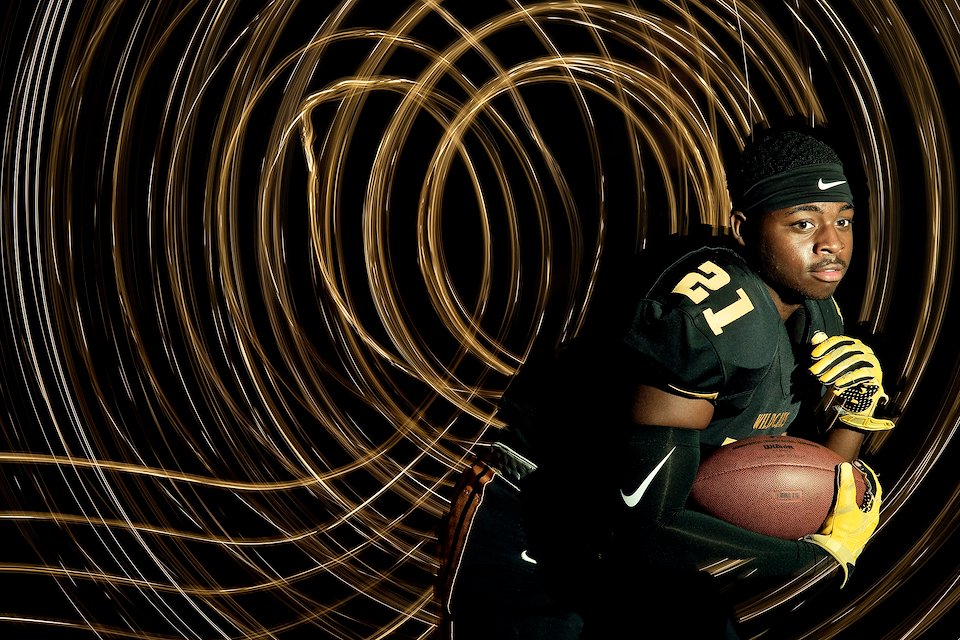 Winona High School's Dee Wheeler is pictured for the 2016 Pigskin Preview magazine.
Mary Johnston of Tyler watches models take the runway showcasing clothes from Mary V's by Shelby during the Women's Symphony League style show Thursday at Villa di Felicita in Tyler. The show and luncheon featured the latest in fall fashion by two Tyler local businesses, Mary V's by Shelby and fine jewelry by Ramsey Fritz Jewels. The event was a fundraiser for the Women's Symphony League.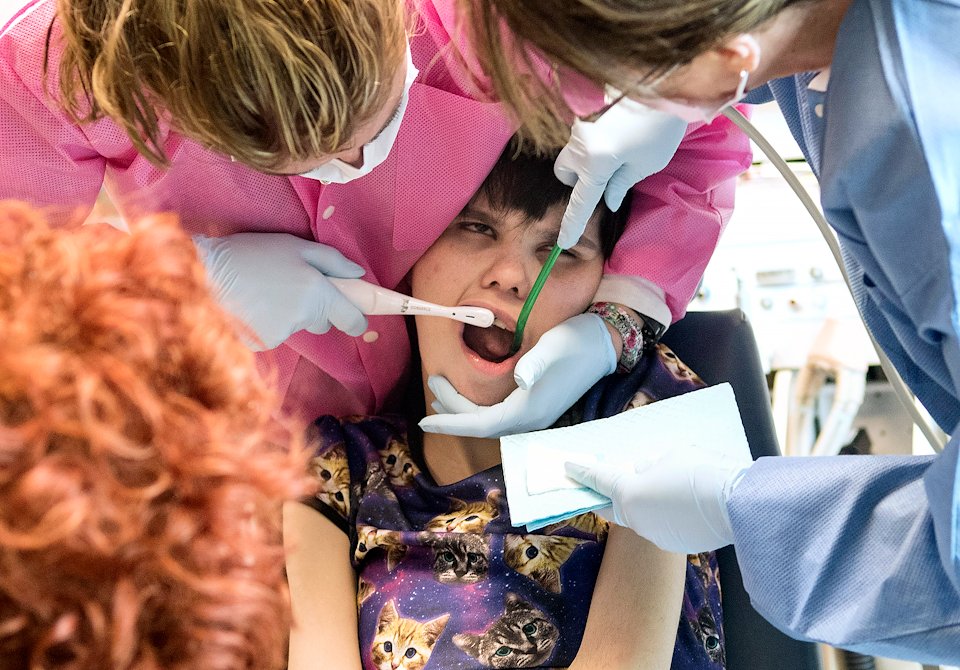 Jessica Ogden watches as two dental hygienists clean her daughter's teeth April 12, 2016. Ogden adopted Belinda "Lulu" Postelle, 27, a special needs adult, after caring for her in a special needs public school.
Angela Reed, left, is hugged by her father-in-law Robert White while Laura White consoles Reed's daughter Mariah Mendoza, 7, on the front steps of Angela Reed's destroyed home in Van Thursday May 15, 2015. The Van tornado destroyed both family homes which were both located on Bois d' Arc Street in Van. All that remains of Angela Reed and her husband Chase Scruggs' home is the front steps. "We're never going to leave Van," Robert White said.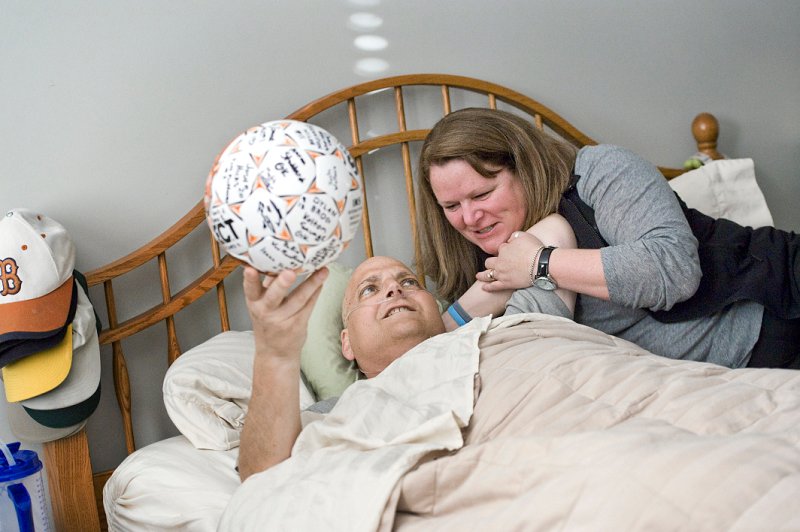 Diane Dearden, 47, right, sits with Hugh Dearden, 48, while his son Jerry, 18, and the seniors on the Brighton High School boys soccer team visit him at his house in Cottonwood Heights, Utah March 31, 2011. The team gave Hugh a signed soccer ball and asked his permission to dedicate their next game to him. Hugh was diagnosed with prostate cancer at age 45. That game ended up being the last game her ever saw.
Latonya Carter lifts a large jug of clean water so her sons Michael Lamb, 10, left, and Lamarcus Lamb, 9, center, can wash their hands with a bar of soap before dinner Thursday Oct. 2, 2014 at their home that does not have running water in Rusk County's Fairview community. Carter and her sons wait until after dark each night to fill up water jugs from a spigot on the side of the local community center. Carter waits until dark because she's embarrassed of her family's situation. Several families on her street have lived their whole lives without running water; many are families who were given land during sharecropping after the Civil War.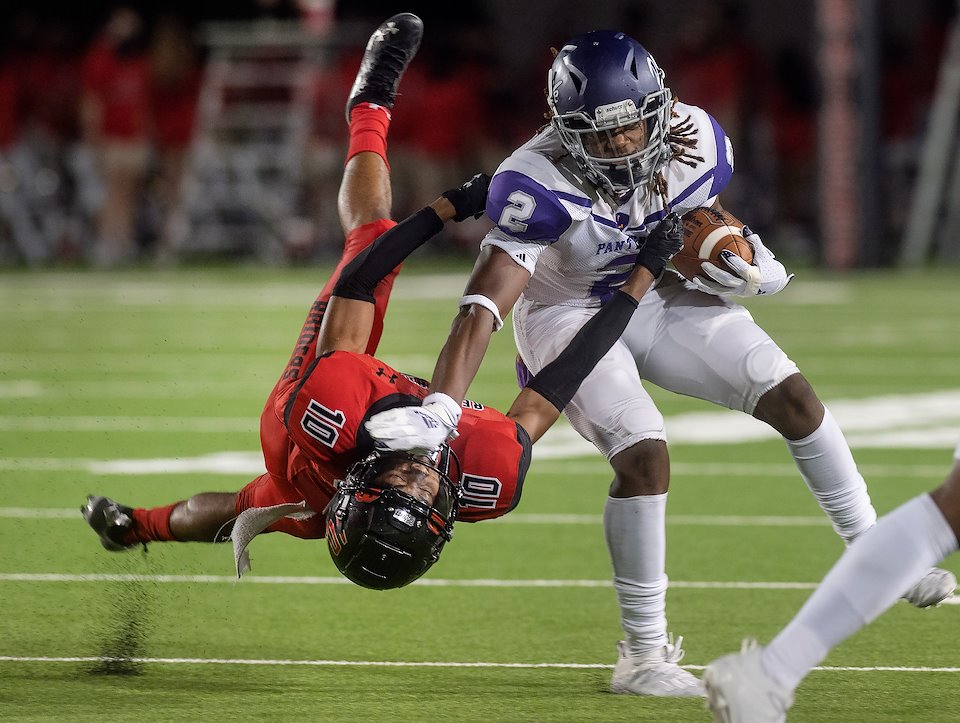 The Tyler Legacy High School's Ja'kambrin Turner (10) attempts to tackle Lufkin's running back Caleb Berry (2) during the school's football game against Lufkin High School at Christus Trinity Mother Frances Rose Stadium on Friday, Sept. 25, 2020.
Tyler Junior College baseball players Hunter Rekieta, left, and Jeremy Christian, right, entertain their teammates by singing and using their baseball bats as pretend instruments. The players were waiting to have their photos taken by various photographers during their media day Monday at Mike Carter Field in Tyler, Texas.
Sushi from Juls for In Magazine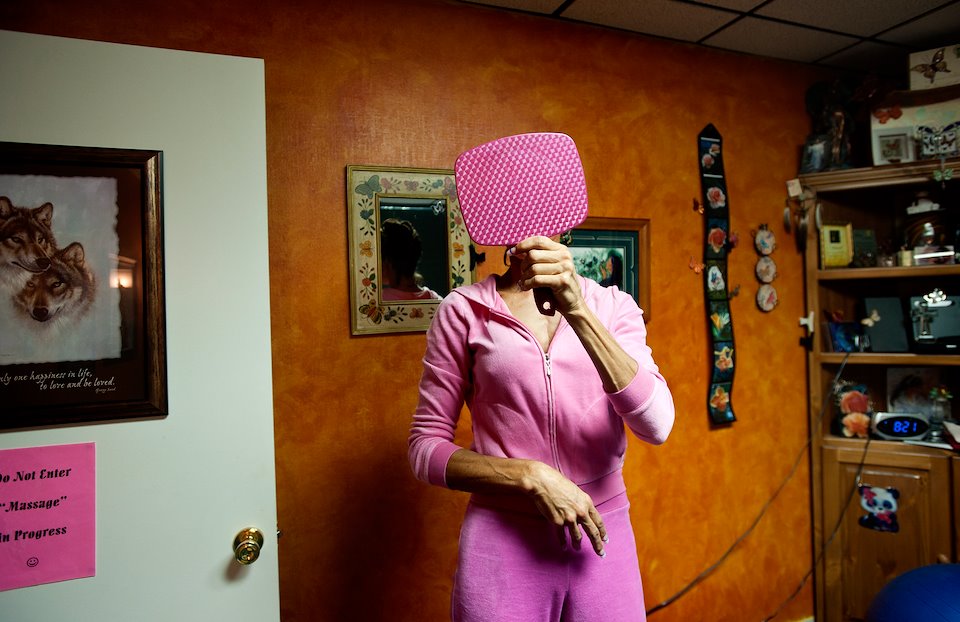 Sandra Baker, 48, looks at her hair and makeup before leaving her office to check in at the Purebody Nutrition Extravaganza Bodybuilding Show July 21 in Tyler, Texas. Makeup and hair for women is part of the presentation at a bodybuilding show.
Former Miss Texas College Paloma Bermudez, right, crowns Taylor J. Pierce as the 122nd Miss Texas College Thursday Oct. 20, 2016. Texas College President Dr. Dwight J. Fennell and his wife Angelia Fennell, at left, participated in the ceremony. Pierce will serve as Miss Texas College for the remainder of the 2016-17 academic year acting as a student ambassador for the college.
Cliford Hughes, 11, rollerblades on Begole St. in of Flint, Michigan in his Sunday's best suit after attending an Easter church service and eating dinner with his family.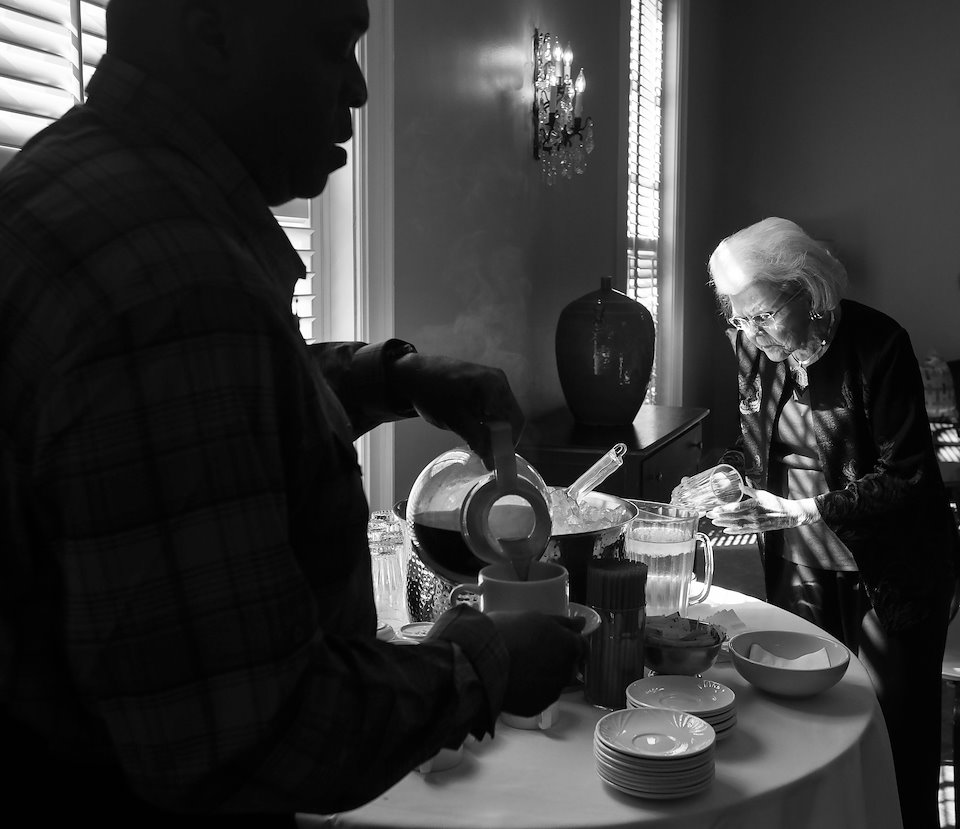 Ricky McClenton, 60, pours a cup of coffee as Del Rose Yale gets a glass of water at Willow Brook County Club in Tyler on March 7, 2018. McClenton is her housekeeper of over 30 years and drives her to the country club to play Mahjongg.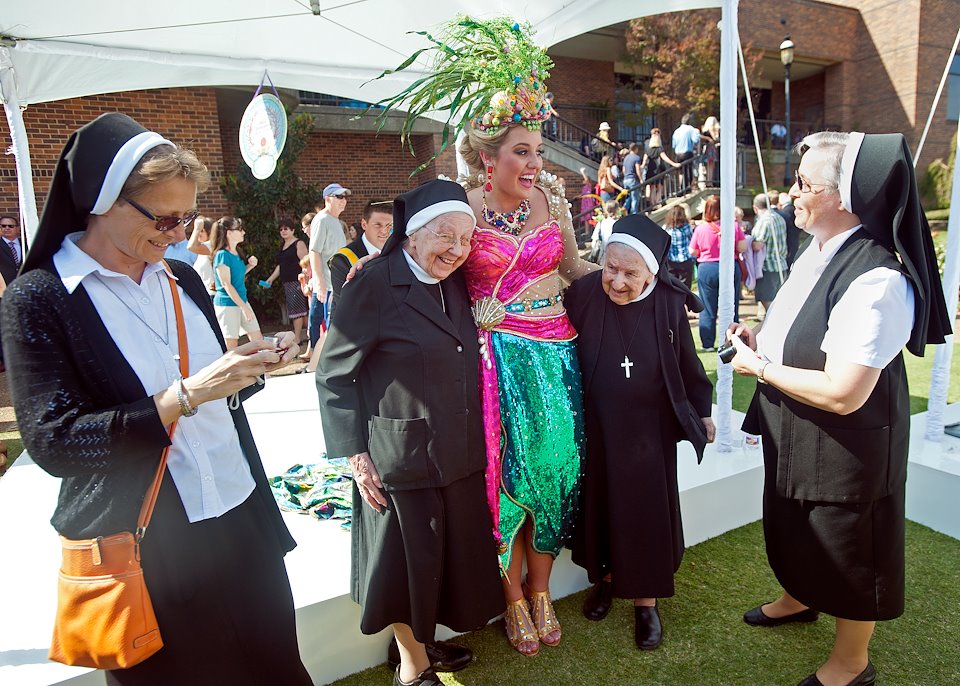 Women religious Francesca Witkowska, Beata Czyl, Corona Molenda and Michaela Tomkowiak meet lady-in-waiting Alexandria Gowin and to have their photo taken with her costume "Hurricane" at the Texas Rose Festival Queen's Tea held Saturday Oct. 18, 2015 at the Rose Garden Center in Tyler, Texas. This year's theme is "Royalty of the Under Water Realm." The Texas Rose Festival is an annual event held in Tyler in October celebrating the area's historic involvement in the rose industry and features young women dressed in ornate themed outfits designed by Winn Morton.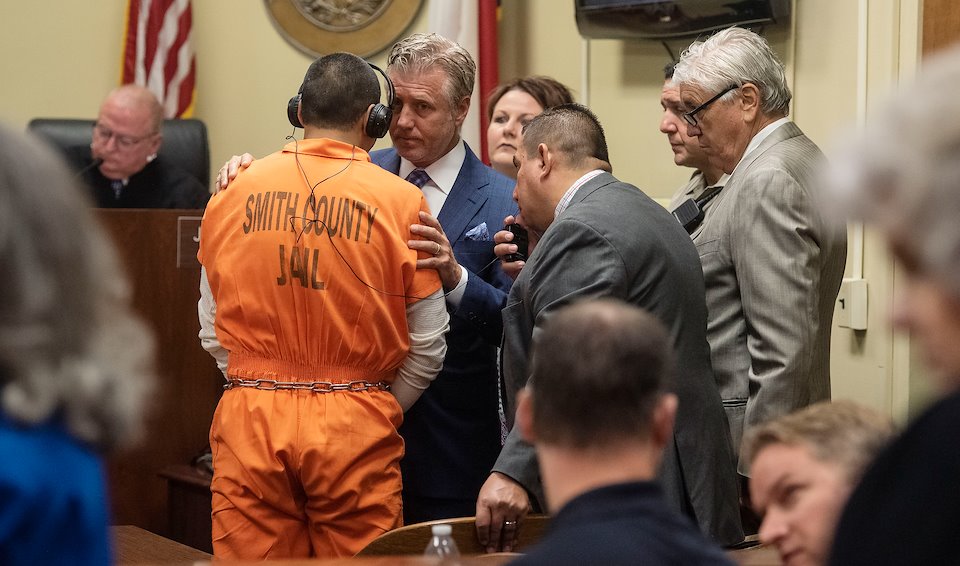 Attorney Brett Harrison talks with his client Gustavo Zavala-Garcia as the court is recessed after Zavala-Garcia entered a guilty plea and was sentenced to Life In Prison Without Parole on Thursday Aug. 22, 2019 at the Smith County Courthouse in Tyler, Texas. Zavala-Garcia killed 10-year-old Kayla Gomez-Orozco in November 2016 in Bullard, Texas. He uses a headset in court to speak through Spanish interpreters.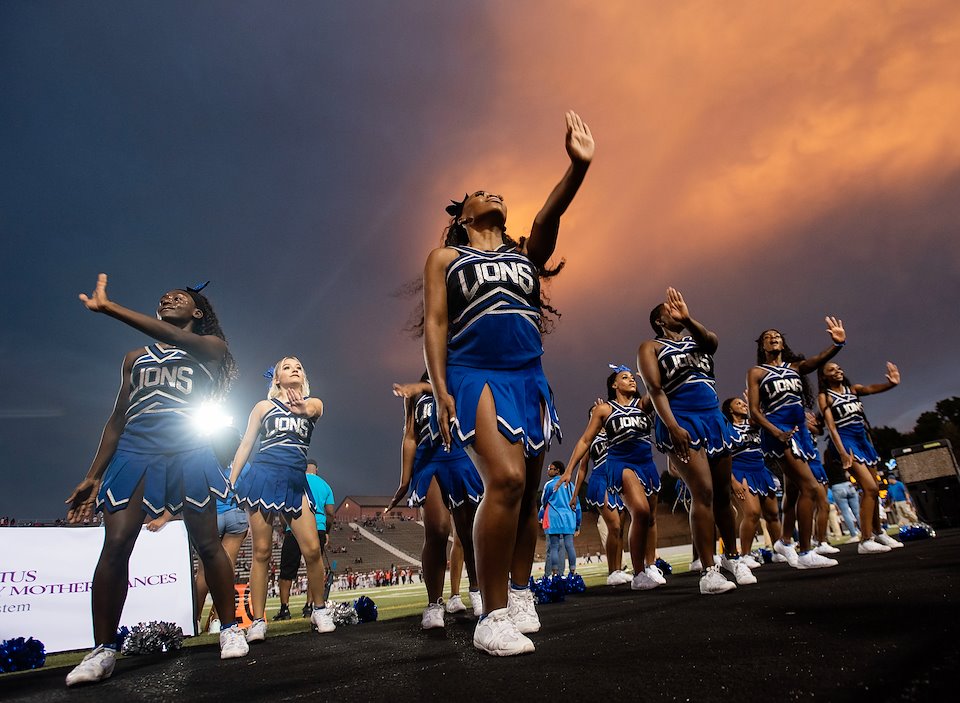 The John Tyler High School cheerleaders perform as the clouds change colors at sunset during the Lions' football game at Christus Trinity Mother Frances Rose Stadium in Tyler, Texas on Friday Aug. 30, 2019.
United States Senator Ted Cruz is pictured through a window of his campaign RV –The Cruzer – talking with constituents during the Grassroots America – We the People's Northeast Texas Conservative Superstars 2018 Primary Election Kick-off held on Saturday Jan. 27, 2018 at Rio Neches Cattle Company in Tyler, Texas. Cruz and Lt. Gov. Dan Patrick of Texas spoke and other Grassroots America-endorsed candidates attended the event such as U.S. Congressional candidate Jason Wright, State Representative Matt Schaefer, District Attorney candidate Jacob Putman, and 321st District Court Judicial candidate Robert Wilson.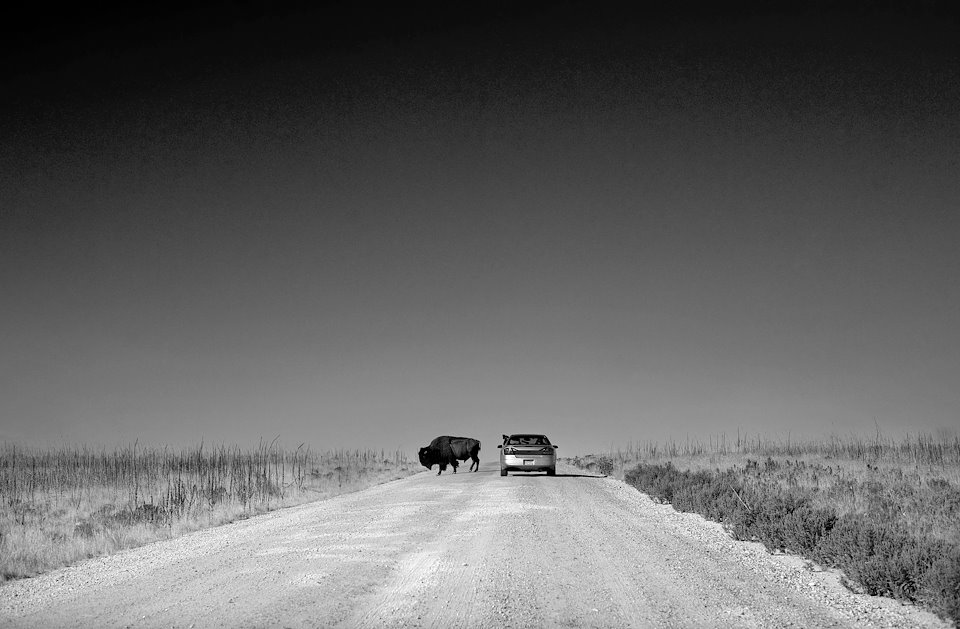 Antelope Island, Utah, 2010
A parking lot filled with classic cars and car enthusiasts is reflected in the window of Whataburger store 730 in Tyler, Texas Thursday July 9, 2015. This Tyler Whataburger "Hot Rod Cafe" hosts a cruise night car show the second Thursday of each month from March through October. The shows feature cars predating 1976 and each show has a theme such as convertibles, 1950s, Mustangs or Corvettes. This is the 26th year for the Whataburger cruise nights.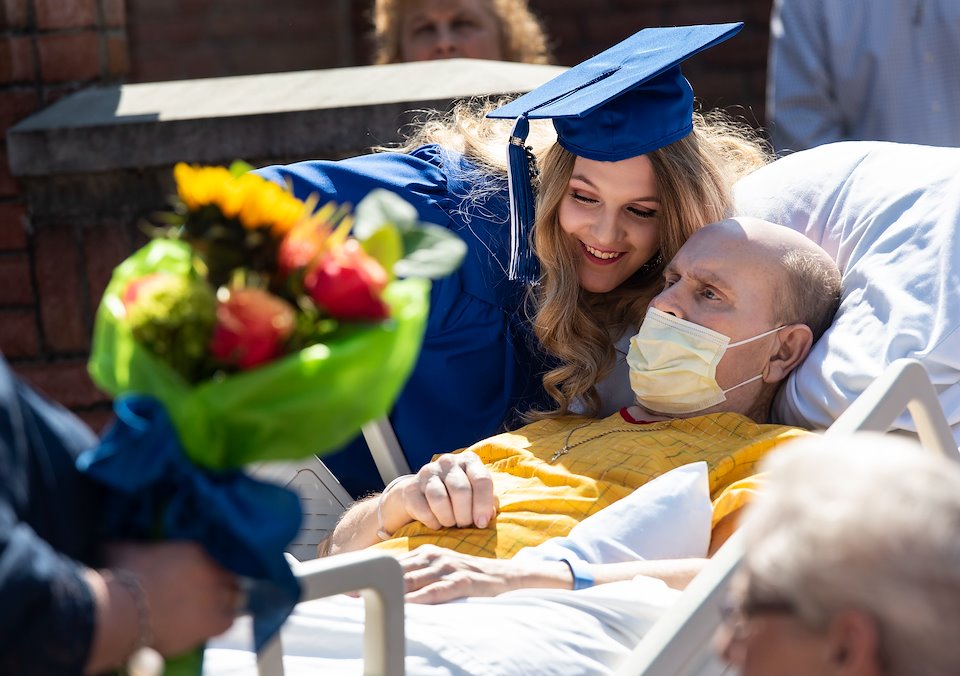 Lindale High School senior Christan Patterson leans in close to her father Mark Patterson at the conclusion of her mock graduation ceremony at Hospice of East Texas in Tyler, Texas on Wednesday March 20, 2019. Being able to see Christan graduate was one of Mark's life goals. Mark has late stage Esophageal cancer.
Editorial
Commissioned content from editorial photography assignments.